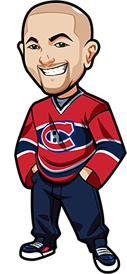 Written by Graeme on Friday, April 24th, 2015
Follow @BetNHL
Another thrilling night of hockey, with the Anaheim Ducks the only team to go through thus far. So many close series, with a lot of potential game 7s.
The Lightning came back from 2-0 down at the end of the 2nd period, for a massive victory over the Red Wings in overtime. A huge result to reclaim home ice. We both correctly predicted the Tampa win, although Graemes predictions of them doing it in a big way didn't come to fruition.
The Washington Capitals took the lead in their series, which we also tipped yesterday. The Capitals were the ones to do it in a big way, coming from behind to win 5-1. They now lead the series 3-2. Can you imagine if the Capitals played with that motivation all the way through?
Scott, for the first time in we don't know how long, tipped against the Chicago Blackhawks. He called that one correctly, as the Predators dominated the Blackhawks 5-2 in a tremendous outing for them. What a series that is, as the Blackhawks pull it back to 3-2.
Canucks won as well, 2-1 over the Flames. Scott didn't tip that one due to weak odds on the Canucks, and Graemes ambitious pick of Canucks -1.5 didn't pay off.
It's Friday, April 24th and we've got three games for you tonight. We'll get to them in a minute. For now, it's time for our bi-weekly chat with the boys from Sports Interaction.
BetNHL.ca: What's the action been like in the opening series thus far?
Sports Interaction: Well primarily being a Canadian sportsbook, we're seen a TON of action after having seen 5 Canadian teams make it into the playoffs. Canadiens vs Senators gets the most action. Also as an example of how big Canadian teams are supported – when we launched our lines prior to the playoffs starting, we offered the chance to bet on a Canadian team winning the cup. Odds were +331. The next day we were forced to change that line to +263, with so much betting action on it.
BetNHL.ca: What team has seen the most action?
Sports Interaction: Easily the Montreal Canadiens. For Game 5, we're already seeing 86% of people bet on the Habs to win and that's with the odds at -170.
BetNHL.ca: That's an interesting one, because if you're a casual fan looking in you might only remember the result, not the difference in play considering every game has been a one goal decider.
Sports Interaction: It is, and that can be the way playoff hockey is. Look at Penguins vs Rangers – all 4 games have also been decided by just 1 goal. Even if one team is better than the other – the playoffs can be so tight that one goal is the difference. Sharp punters should be looking at betting some puck line underdogs. Of course that's not always the case. I mean Blues vs Wild for example – no 1 goal differences there; generally a one sided whooping every game.
BetNHL.ca: Do you think people betting should adjust their betting strategies when it comes to the playoffs?
Sports Interaction: No. We're well aware of the strategies and we see it often – blind bets. For example – if a team loses in Game 1, then you should blindly bet them to win Game 2. These aren't good strategies. You need to treat each game as a separate entity, and there's so much to consider. You guys talk about motivation a lot – look at how that helped the Rangers last season, after the passing of the mother of Martin St. Louis. It brought the team together, and gave them something more to fight for just in case the cup wasn't enough.
BetNHL.ca: What factors should people consider when betting in the playoffs?
Sports Interaction: Other than the obvious like goaltending – one big factor is special teams. Really, a lot of the games, especially in the early rounds, will be win or lost based on PPs & PKs. Also composure, the ability to handle pressure etc can also be huge.
BetNHL.ca: As always, thanks to Sports Interaction for taking the time to answer our questions and give us some great insight. If you're looking for a trusted online sportsbook, that offers live betting during the game, mobile betting and a $125 bonus – you can't go wrong with Sports Interaction.
Senators vs Canadiens Betting Tips:
Scott: I like the Habs to take this game and move onto the second round but it falls below 1.70. Of the 4 games played in this series, the first hit 7 goals , the second 5, third hit 3 and the fourth only 1. Going to go with the trend in this one and hope for a low scoring game. Under 5 for 1.83
Graeme: I like the Habs to win as well, but the odds just aren't there. I think the best you can get including OT is 1.65. With the first two games in Montreal having 7 and 5 goals – and this being such a huge game – I'm not comfortable with the over either. I'll sit on the fence for this one.
Penguins vs Rangers Betting Tips:
Scott: Before the playoffs started, I thought this series would be much closer than it has turned out. The games have been close but the outcomes have gone the Rangers way. Ya the Rangers are going to win the series and move onto the second round. But you would have to think that the Pens have another win in them. Based on the value alone I would be taking the Pens but I think they have a shot. Penguins Win for 2.65
Graeme: Everyone expected the Rangers to dominate the Penguins. They did it in Game 1, but the other games were much closer. Penguins also started fast in the last game and that paid off well for them. I think the Pens are tired, but I also agree that there is more twists in the tale of this series. Based on the last couple of games, there is very good value on Penguins win at 2.65.
Wild vs Blues Betting Tips:
Scott: This, like many of the other first round series', has been really close and tough to predict. These teams have traded wins and come back to St. Louis to begin a best of three series. Last game the Blues hammered the Wild 6-1. Tarasenko scored another 2 goals, one being a candidate for goal of the year, which bring him to 5 so far. They scored 3 goals in less than 5 minutes early in the first and never looked back. I think the momentum they gained it that game is going to carry over to this game. Blues Win for 1.71
Graeme: I'm staying the hell away from this series. It's just been one of those bizarro series we often encounter. One team shows up, the other doesn't. Then they trade places etc. You then have someone like Tarasenko who can single handedly change a game. Sorry, but I'm staying on the fence for this series as well. And remember – go sign up at Sports Interaction. Every new player gets up to $125 free!
$25 risk free bets on player prop, in-game bet and $50 risk free mobile bet. Available for NEW customers only at BetOnline.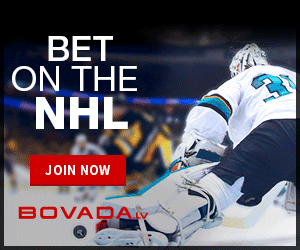 Follow @BetNHL
BetNHL.ca » Tonights Tips »