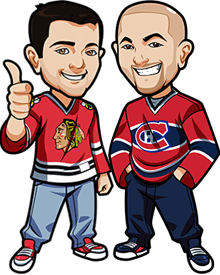 Written by Graeme & Scott on Tuesday, April 24th, 2018
Follow @BetNHL
So first of all there is no games today and no tips today. We have one more game in the first round of the NHL playoffs which is the Leafs/Bruins Game 7 which takes place tomorrow night.
We'll have a tips post up tomorrow morning for that game – although with both of us having separate series bets(Scott the Leafs, Graeme the Bruins) we personally won't be betting this one.
We thought we'd create this post if people wanted to discuss the hockey from yesterday or the Bruins/Leafs game tomorrow. As well as of course any MLB and NBA action for today.
Which begs a question: should we do posts during the off-season for you to discuss sports?
I mean during the Summer we've got MLB action, we've got the World Cup and various other sports. Then other hockey leagues are ongoing or starting up – the KHL is in August for example.
We don't want to bother people on the mailing list who only care about NHL too much. So we were thinking of possibly doing a weekly sports discussion thread beginning every Sunday, and seeing how that goes.
Anyway discuss away the sports today!
Follow @BetNHL
BetNHL.ca » Tonights Tips »