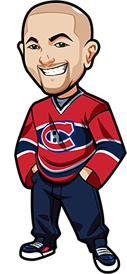 Written by Graeme on Friday, April 24th, 2020
Follow @BetNHL
Well the NFL draft started last night and it was pretty fun. I was able to correctly call the order of the Top 3, with it going Burrows, Young then Okudah.
The draft was what it was. I've never been super into the draft but it was still enjoyable to watch in the sense that it brought some normalcy back to our lives, and gives the impression that we'll have an NFL season later in the year.
Let's hope so because as a Patriots fan, I'm really looking forward to cheering on both the Patriots AND the Bucs next season. Brady/Gronk taking a Super Bowl would be just amazing and it's just a shame the Pats and Bucs aren't playing each other.
It looked like our bet of D'Andre Swift to be the first RB taken would carry over to the next day alas the Chiefs picked Edwards-Helaire right at the death. Swift should go before Taylor I'd expect though if you wish to bet that but the odds just aren't there for me.
Props to Sports Interaction (SIA) for their creativity in regard to bets. Along with the Yellowstone Earthquakes bet (under still looking good) you can bet on the European Tramdriver Championship 2020. Amazing time to be alive.
This is one of those days where I just can't really be arsed analyzing anything for betting I've got to admit. I'm a bit late for todays esports etc.
I guess I'll have a look at the draft and cover that.
NFL Draft 2020 Betting Tips:
You can bet this at Bet365 (Americans: We recommend http://www.bovada.lv. or BetOnline.. as an American.
I'm seeing a ton of people risking on Antoine Winfield Jr. to be the first safety taken. Many feel it's him or McKinney. I don't see it but for 11.00 odds I figure hey it's worth a shot. Especially with McKinney not going yesterday.
I'll also double down on D'Andre Swift and take him as the next RB picked at -150 odds.
Finally I'll take the first draft pick by the Patriots today to be Defence. I think we'll grab a safety here actually.
That's it for me. Hopefully be a bit more motivated to cover….whatever the hell is going on tomorrow.
Cheers lads.
Follow @BetNHL
BetNHL.ca » Tonights Tips »