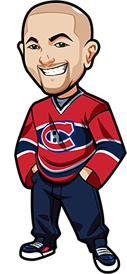 Written by Graeme on Saturday, April 24th, 2021
Follow @BetNHL
No tips yesterday.
Wild got the win in regulation. I wanted to back that one but from everything I looked at it was just too tight. It ended up being a very tight game. Kings played very well and gave the Wild a run for their money.
Sabres got a big win over the Bruins.
Preds beat the Hawks. I was talking to Scott about that one yesterday and he was saying looking at the Hawks schedule, this game is huge for them because they have Lightning, Panthers and Canes upcoming. I said to him that knowing the Hawks they will thus lose this game, then win quite a few of those games no sweat. First part is done we'll see how it goes now.
It's Saturday. Lotta games. Let's dive right into them:
Penguins vs Devils:
Would have to do Pens -1.5 to have any value. We gave our reasons as to why that was a good play on the 20th. We all saw what happened there with that ridiculous 3rd period but it was still the right play, and proven to be so on the 22nd.
So it's like – do we go down the well again? Blackwood m ay be back for the Devils. Not sure that means too much but might give them a lift. To be honest for the early games I find myself looking for an excuse not to bet them and that's enough for me. Everything we said about Pens -1.5 still stands though for this matchup.
Blues vs Avalanche:
Avs bounded back strong. Now can they continue this? Would have to be in regulation. Combination of potential letdown after that first game back – always must like a delayed adrenaline dump – and that in their recent wins it's been a tad tight goals wise puts me off this one. Plus our boy Dubnyk of course.
Panthers vs Hurricanes:
We covered this one in the prior matchup between the teams two nights ago. If the Florida PP was better they might have actually made a contest of it. It's funny as I don't feel as confident in this one for whatever reason – probably because they just played. The 2nd leg games can be iffy. But w/e – if tonight is the night Panthers pull it off so be it.
Last time these two played two in a row Canes got the W in both legs. The games can be tight of course. But I mean the odds are the same and the only thing that is different is this 2nd leg. Canes have won both legs of doubles more often than not in the last month.
Canes incl OT/SO
Odds are exactly 1.80 / -125 everywhere. This is where you 100% always bet at Bet365 (Americans: We recommend http://www.bovada.lv due to their cash back rule if a team goes up by 3 goals. Man I want the Canes to go up by 3 and then lost 4-3 now just so I can scream "SEE!".
Canada: 1.80 Odds at Bet365 (Americans: We recommend http://www.bovada.lv.
USA: -125 Odds at Bovada.
Everyone Else: 1.80 Odds at Bet365 (Americans: We recommend http://www.bovada.lv.
(Odds correct as of 2021/04/24 8:16:17 AM EST but are subject to change.)
Red Wings vs Stars:
Man at like 2.75 odds the Wings don't seem like a bad bet here. Let's see….
– At home they actually have a positive record. Stars have a negative record on the road.
– Red Wings coming in off a high. Stars been playing great lately of course and may have just been caught out there.
– Recent results have the Stars 3-2 in this series going back the last 5 weeks.
– If we go through advanced metrics those last 5 weeks, Red Wings have like the worst offensive metrics. But could Vrana be changing that? Or was that just a one game fluke.
– Wings do have a few key injuries while for Stars it's a key game. Their playoff hopes dropped about 17% over the last 2 days.
– Advanced metrics are very mixed. Not overwhelming consistently in favour of either team except in HDCF where Wings give away more and thus xGF.
Not going to make any rash decisions on this one but this is one I am going to look into more, read some analysis, look at past games etc and may have something in the comments later if I like it. It's very hard to bet against the Stars based on their playoff psh form though but I do think this line has some value.
Flames vs Canadiens:
B2B H2H. Last double header Flames win the first then lost the second FWIW..
Jets vs Leafs:
Hard to relly bet against the Leafs but hard to bet for them with their current form.
Islanders vs Capitals:
Just two incredibly inconsistent teams right now. One of those games that feel like it can go either way. As underdogs, the Capitals probably not the worst bet but until the last game this has been a home team sweep this series.
Sharks vs Wild:
Sharks on a bad run at the moment. These two just played and Wild beat them both games. Wild on a B2B, Sharks rested. If the Wild were a better price I may consider it but not at 1.74ish. Actually thinking about it I don't even think I'd touch them at 1.90. I don't know why I have such a lack of confidence in the Wild. I am going to have to spend some time really analyzing them and trying to change that perspective prior to the playoffs.
Ducks vs Knights:
These two played recently with the Knights covering the handicap both times (which is the bet we'd have to make). I only had a quick write-up for the first game as the second was a B2B H2H. It was:
"Good to see some consistency from the Knights. Would have to be -1.5 and I don't have the confidence in them for that. Ducks have rode them hard this season. No bet."
I then wrote a lot more the next day where I said that if you based it just on Fridays game, then Knights -1.5 was the easiest bet in the world. The only issue was recent results in Knights 2nd legs. They duly covered there too.
Knights absolutely owned them that first game. The second game actually not so much when you go by the metrics. Ducks actually did a good job. Knights were just a lot more clinical with their finishing.
Mathematically I think it's fine to back the Knights again. They're just on an absolute tear right now.
Knights -1.5
Canada: 2.02 Odds at Sports Interaction (SIA) + free $20 bet.
USA: -105 Odds at BetOnline..
Everyone Else: 1.95 Odds at Casumo
(Odds correct as of 2021/04/24 8:16:17 AM EST but are subject to change.)
Kings vs Coyotes:
The Kings are a team I am always looking to back. Not sure why. Rarely actually back them on here but it's the first avenue I explore for any Kings game. Anyway probably a real coinflip of a game – neither odds work.
Canucks vs Senators:
Man who can bet against the Sens on this road trip? I dunno what is going on but good for them. Surely we gotta throw a bet on them at plus odds. Not sure I can advise it but will certainly look into it more. It's the last game on the card and I am a tad worn out from all of the above. Will look into it more later. Don't think I actually can but man props to the Sens.
As I said I will look more into the Wings game.
Follow @BetNHL
BetNHL.ca » Tonights Tips »