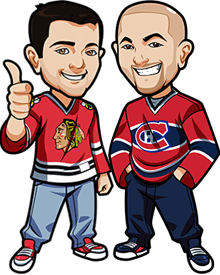 Written by Graeme & Scott on Saturday, April 25th, 2015
Follow @BetNHL
Our one joint value bet of the Pittsburgh Penguins lost last night, but based on the game that happened it was the right bet to make. Penguins battled hard and took the game to overtime. They also outshot the Rangers. Lundqvist was in top form though, and it's the Rangers that go through. Hopefully Pittsburgh take a long hard look at themselves; they can't blame Fleury this time around.
The Wild vs Blues series continues to take place in Bizarro World, as the Blues lost 4-1 at home to the Minnesota Wild. Which I believe, if my bizarro betting calculator is correct – the Blues win Game 6 at a score of 10-2. So get those Blues -7.5 bets on now.
And in the highlight of the night – the Ottawa Senators DESTROYED the Montreal Canadiens 5-1, despite the Habs almost DOUBLING the shots the Senators hit. Just AMAZING. And that was exactly the result the Senators needed. If they'd squeaked a win 1-0 or something that would be a different story; but everything just went right for them, and it's opened peoples eyes and is going to make for a fascinating end to the series.
Let's get on with todays tips with the NHL kicking off at 3pm EST today with Capitals vs Islanders – Scott's tight for time again so just short ones from him:
Capitals vs Islanders Betting Tips:
Scott: Tough to call. See lots of goals as the Isles fight for their lives and the Caps want to move on. Over 5 for 1.71
Graeme: The Capitals, despite leading the series, haven't really shown they are the better team. But watching the Islanders responses to the last game – they seem dejected, and beaten down. Going to be interesting to see if they can pick themselves up. And their defense isn't in the best spot right now. I'll agree with Scott on Over 5 goals.
Red Wings vs Lightning Betting Tips:
Scott: Lightning at home will be trying to take advantage of the home ice in this best of three series Lightning Win in regulation for 1.83
Graeme: I've said it quite a few times this season. Lightning are all about motivation. And I think tonight they're going to be motivated. After that close game against the Wings 2 nights ago, they're going to come out and do the business tonight. It's one of those easy bets too where if you believe they win, the only way you can really foresee it is in dominant fashion. So I'm also with Scott on Lightning win in regulation.
$25 risk free bets on player prop, in-game bet and $50 risk free mobile bet. Available for NEW customers only at BetOnline.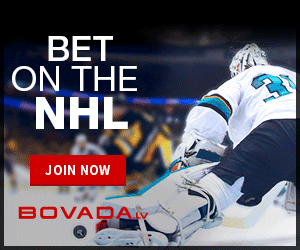 Predators vs Blackhawks Betting Tips:
Scott: Same for the Hawks. Home ice and a chance to end the series. Hawks usually play great at home in front of their lunatic fans. Goaltending is an issue at the moment. Do they go back to Crawford or ride Darling? Either way…Hawks Win for 1.60 is below our minimum.
Graeme: Based on the history of the games so far in the playoffs., Over 5 is the only bet to make.
Canucks vs Flames Betting Tips:
Scott: Payback for the last game. Flames have a chance to move on. I originally picked this series in 7 but have to like the Flames to bounce back in this one. Flames Win 1.76.
Graeme: Canucks dominated the Flames in the last game, and showed why they are in the playoffs. Flames are playing very well, but it's one of those series where I think the Canucks are that much better, and this is a game where they take it, forcing a game 7. Canucks win. 2.10 odds.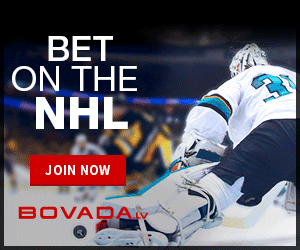 Follow @BetNHL
BetNHL.ca » Tonights Tips »