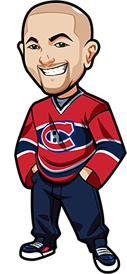 Written by Graeme on Saturday, April 25th, 2020
Follow @BetNHL
Hi all,
A 3-1 night yesterday in the second round of the NFL Draft.
I went for the super risky pick of Winfield Jr at 11.00 odds to be the first safety drafted. Alas the Giants took McKinney first at #36 so it was a loss there. Was a big risk and Winfield Jr. went #45, to the new New England Patriots, the Tampa Bay Buccaneers.
We hit the under with Cole Kmet. We had him drafted under 45.5 and he was drafted 43rd.
We also took D'Andre Swift to be the first RB picked in the 2nd round and that was the case as he went to the Lions at #35. Nice pickup for the Lions.
I also went with Patriots first draft pick of the day to be someone on defense and that was the case.
I also want to mention that with the Nicaragua league done. I'm tackling the Belarus Premier League over at Bet Soccer. We started off well with a 2-0 day. I should also mention there is a team there called FC Slutsk and you damn sure I've bet on them in their game tomorrow. Anyway check it out. I posted tips there 3 days in a row which felt great – made me feel like life is returning to normal a bit just getting that routine going.
Great news as UFC is returning and I am looking forward to that. I do a lot of UFC betting so I'll be sure to post ths tips here.
One CS:GO pick today as it's underway right now. I've also got an article covering Where To Bet CS: Go with a list of specific bets and tournaments etc for those interested.
CS:GO Betting Tips:
I've said it in the comments but I bet this very, very casually and am generally clueless so take these with a grain of salt. Basically just casual bets to get me watching. Eric will hopefully post in the comments with his picks – he is much more knowledgable at this than me.
I'm taking Complexity to beat Team Vitality at 1.90 odds. A slight underdog price but I like them. I thought Complexity did quite well against Astralias. Vitality are like the pre-Draisaitl Oilers; relying too heavily on the McDavid of the team, ZywOo.
Complexity have been poor and only 2 wins in their last 5 however I liked what I saw last time out and think they bring it here.
This one kicks off at noon EST.
Follow @BetNHL
BetNHL.ca » Tonights Tips »