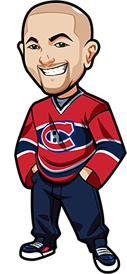 Written by Graeme on Tuesday, April 25th, 2023
Follow @BetNHL
Toronto has found the magical strategy to winning I guess. Take the first 50 minutes of the game off. Then when the opposition has tired themselves out (by scoring many goals against you), actually show up.
Work smart, not hard, I guess.
Hopefully you followed our advice to bet Tampa at Bet365 (Americans: We recommend http://www.bovada.lv because if so, your bet was a winning bet just like Scotts was thanks to their early payout if your team leads by 3 goals. That's why with Sports Interaction and 888 having the exact same odds, we listed Bet365 (Americans: We recommend http://www.bovada.lv instead of the others.
That early payout doesn't save our bacon often, but man do you feel like a boss when it does.
Time to add the Rangers to the no bet list? Feels like it. The problem isn't that their offense has dropped off – it's that while they have dropped off, they can also perform on a moments notice. Makes things tricky.
It was February when that happened. They were just blasting teams and looking unstoppable, then dispappeared for a few games completely,
Kraken got the win. That sort of thing is always so tricky in the playoffs. I felt they were going to pull a win out and wasn't buying into the Avs as I've wrote. But after backing them in Game 3, it was tough to back them in Game 4, especially when the odds weren't as good.
We go to a bit of a broken up schedule now instead of 4 games a night. 3 tonight, then 2 tomorrow.
Hurricanes vs Islanders Game 5 Betting Tips:
Scott: Was a rough game in game 4. The Canes took advantage of the powerplays they were given and scored twice.
The Canes can win it here on home ice but the Isles aren't going to roll over so should be a good game.
But with the series now a 3-1 lead the Canes are going to have to dig deep and win this game as to not give the Isles a chance back at home.
I like the Canes but the odds make it a regulation play and I would rather pass as both games in Carolina were 1 goal games with an overtime in there too.
No Bet.
Graeme: What a disappointment that Islanders team was in Game 4. I said for that game that 5 vs 5, Hurricanes aren't impressive metrics wise. They took advantage of two power plays to open up a 2-0 lead there, and then that was basically all she wrote for the Islanders.
The metrics for the Hurricanes 5 vs 5 still aren't great. That game did help somewhat though. But if we look at all situations, the Islanders have a better xGF/60 and should be scoring slightly more.
This one is more of a gut play than anything else. I think the Islanders realize they have to be disciplined and not give away penalties to have any chance of winning here, buuut I've seen that situation before and when your playoff lifes are on the line, that sort of mentality doesn't usually end well.
I'm going with Canes to wrap it up tonight, and hopefully win me this game bet as well as my Canes -1.5 for the series prediction. Canes in Regulation
Ontario: 2.10 Odds at Bet365 (Americans: We recommend http://www.bovada.lv
Canada: 2.10 Odds at Bet365 (Americans: We recommend http://www.bovada.lv
USA: +100 Odds at Bovada
Everyone Else: 2.10 Odds at Bet365 (Americans: We recommend http://www.bovada.lv
(Odds correct as of 2023/04/25 8:47:35 AM EST but are subject to change.)
Stars vs Wild Game 5 Betting Tips:
Scott: The Stars won and tied the series at 2. Game 5 is in Dallas. Oettinger was amazing and earned that win.
The Stars scored twice on the powerplay on questionable calls on Foligno. The Wild were without Eriksson-Ek who has played only 1 shift in the series.
The Wild lost that game on those calls against Foligno so I expect them to be more disciplined in this game.
Wild incl OT.
Ontario: 2.20 Odds at Bet365 (Americans: We recommend http://www.bovada.lv
Canada: 2.26 Odds at BetOnline.
USA: +126 Odds at BetOnline.
Everyone Else: 2.26 Odds at 888 Sports.
(Odds correct as of 2023/04/25 8:47:35 AM EST but are subject to change.)
Graeme: Honestly? I'm a sucker for these series where teams trade wins like this. I already predicted this series would be like this, and that it would go to 7 games. So I'm pretty much ready to blindly back the Wild due to the trading wins.
Looking at the overall metrics, I'd certainly give the edge to the Stars who are performing better overall. The Wild are keeping up due to their HDGF as they're able to take advantage of the high danger chances they're getting.
Possible that will run out tonight. Honestly, I'm going to chuck a bet on the Wild myself due to the aforementioned reasons. But I don't think the metrics lean that way and you're going to need a bit of luck if you back it.
Oilers vs Kings Game 5 Betting Tips:
Scott: The Kings were up 3-0 after the 1st and chased Skinner from the net. In the 2nd the Oilers came alive scoring 3 of their own to tie the game. In the end this needed overtime where Hyman scored to give the Oilers the comeback win.
The Kings are a tough team and are hard to bet against. The Oilers may have to start Campbell for game 5 after he came in and was great after Skinner was pulled.
With the goaltending now in question I'm skipping this game.
No Bet.
Graeme: After the way the regular season went, who would have thought that Skinner would be pulled, and Jack Campbell would be the saviour for the team?
But that's why they picked him up. He has the experience. Skinner is still early days, and the playoffs and the pressure is no joke.
It wasn't like the Kings laid off either they kept at it and Campbell did very well.
If the Oilers stick with Campbell tonight that could be a big confidence boost for them.
I do feel there is value on the Kings line. 2.95 odds. I think I'd price them more at about 2.40 or 2.50 so a decent chunk of value there. But the Oilers have proven throughout hte series that they are the better team.
I won't be surprised if the Kings pull it off tonight, but it feels too much of a gamble to advise it. No Bet.
Follow @BetNHL
BetNHL.ca » Tonights Tips »