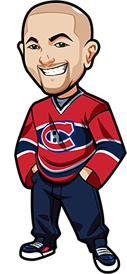 Written by Graeme on Sunday, April 26th, 2020
Follow @BetNHL
Well I hope some of you followed me over at BetSoccer.ca with the soccer tips. We were a completely breakeven 1-1 yesterday, but we won today thanks to my new favourite team, Slutsk.
They were playing against Belshina and had blew a 2-0 lead. It was tied 2-2, with just 5 minutes left. However Belshina had a man sent off, and in the 88th minute our boys managed to get a goal and the win.
I know my wife was a bit confused when she woke up to me screaming "I LOVE SLUTSSSSSSK". She probably thought I was a BATE Borisov fan and that's why she was confused.
In CS:Go, Complexity blew it against Vitality unfortunately. They got absolutely crushed on the final map as Vitality stepped up big. A very deserved victory for Vitality.
Been awhile since I covered me some table tennis so let's go with that today. Sportsbooks have been a bit quiet on unique props the last few days. Hope they pick it up.
Also we're just a few days away from the end of the month and have had just 1 earthquake in Yellowstone. I tipped under 6.5 and goddamn I hope you followed that and it comes in. It's stupid how proud I will be of that one but I did a TON of research into it.
Russian Table Tennis Betting Tips:
I'm only looking at the later games to give you guys time to take out a second mortgage and place your bets.
I personally place my bets at Bet365 (Americans: We recommend http://www.bovada.lv.
First one is the 1.72 Nikita Lyfenko to beat Yurii Merkushin. These two have had some tight games over the last week. However Nikita usually comes out on top and this is the last game of the day and Nikita usually plays strong. You know how the Capitals and Rangers were big teams in the 3rd period? That's my boy Nikita. 3rd and final game of the day he seems to get a second wind. Yuri generally starts strong then fizzles out.
Actually that motivated me and tips are a bit late this morning as I got sent down a rabbit hole. I started exploring goals by period a bit more. The Jets for example just 50 goals in the first period, but 86 the 2nd and 73 the 3rd. So got me really diving into the live betting potential more on a broad scale. Then I started going back historically to see if there is any coaching trends in regard to that.
Basically I spent about 2-3 hours studying period by period goal analytics for a sport that doesn't even exist right now.
Man I miss the NHL. That UFC "Fight Island" thing sounds awesome. Let's just ship the entire NHL rosters and infrastructure to Antarctica for a month and have them play all outdoor games. Man they could play against the wildlife there too for some fun exhibition games. Although that'd just be yet another team of penguins that the Leafs can't beat.
Follow @BetNHL
BetNHL.ca » Tonights Tips »