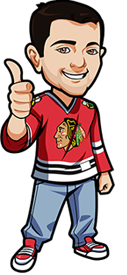 Written by Scott on Monday, April 27th, 2020
Follow @BetNHL
Well as this bullshit drags on it's getting harder to find the motivation needed to write tips about things I have no idea about. It hasn't been going on that long but it seems like a lifetime has passed since this all started. I really can't wait until we can look back at this as a distant memory. It's the little things that we take for granted that I'm missing most.
The NFL draft was different than normal but it really was nice to see something that was familiar and, if only for a couple hours, almost felt like a normal night before everything hit the fan.
I'll go with NHL/NFL Simulations as although its not real action I at least know how it works and feel more confident tipping them.
For today we have 2 NHL games being simulated the first at 4:00 pm the second at 5:30 pm. The games can be viewed at twitch.tv/livehockeysims. If you haven't yet watched one you should as it's actually pretty fun to watch and also exciting if you bet on it.
NHL Simulations Betting Tips
Stars vs Red Wings – The Stars had a decent season to this point. The are in 3rd in the Central Division.
The Wings had a terrible year. They were the only team eliminated from the playoffs in the league. They had only 17 wins on the season which has them comfortably in last place in the league.
I'm going with the road team Stars -1.5 here for -125 odds at Bovada/Bodog
Wild vs Predators – These teams were close in the standings. The Predators had 78 points, the Wild had 77 points.
The Predators were in the final wild card spot but just barely with the Canucks and the Wild right there.
With how close these teams were in the standings I'll take the underdog Wild here for +115 odds atBovada/Bodog
Follow @BetNHL
BetNHL.ca » Tonights Tips »