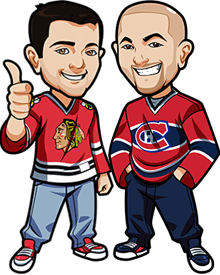 Written by Graeme & Scott on Friday, April 28th, 2017
Follow @BetNHL
The first games of the 2nd round have taken place, and so far "home ice" advantage apparently isn't a thing.
Only 1 of the 4 home teams were able to win and they were the biggest underdogs of this batch of games, as the Ottawa Senators defeated the New York Rangers 2-1.
On Wednesday night we saw two high scoring thrillers as the Predators beat the Blues 4-3 and the Oilers beat the Ducks 5-3 in an amazing 3rd period.
Those two teams face off again tonight. Both the Ducks and the Blues will be hoping for big wins before they go on the road.
Should be an interesting two games. Let's get to it:
Predators vs Blues Game 2 Betting Tips:
Scott: Game one was awesome.  Subban had a goal and 2 assists and in the end the Preds won 4-3.
Kevin Fiala went into the boards legs first and hard and will be out for the remainder of the playoffs with a fractured femur.  It seems the Preds responded to this and scored shortly after.
I think the Blues will come out ready for this one as they can't afford to head back to Nashville down 2-0 in the series.
Blues win incl OT/SO
Graeme: The Blues relied on Allen a lot during the first few playoff games but it was obvious they can't do that forever. Thankfully their offense seems to be ticking when necessary.
Predators will be without Fiala and you have to wonder how that will affect them. Due to how it happened and the severity of it it may spur them on – but it may do the opposite.
I like the price on the Blues but concerned with how many the Preds put past them. No bet.
Oilers vs Ducks Game 2 Betting Tips:
Scott: Game one saw Draisaitl come to life picking up 4 points, Larsson scored twice and so did Letestu and the Oilers won 5-3.
Heading into the 3rd the game was tied 1-1.  The Oilers proved they can play a low grinding game or a high scoring one .
I picked the Oilers to win the series and I still like that but much like the Preds – Blues series, the Ducks can't head back to Edmonton down 2-0 in the series.
I think they come out and tie up the series with a win tonight.
Ducks win incl OT/SO
Graeme: I think we should see a strong bounce back performance from the Ducks tonight. The first two periods of that game really seemed like a slow feeling out process before all hell broke loose in the 3rd.
Ducks win incl OT/SO
Canada: 1.71 Odds at Bet365 (Americans: We recommend http://www.bovada.lv.
USA: Best Odds at Bovada.
Everyone Else: 1.71 Odds at Bet365 (Americans: We recommend http://www.bovada.lv.
Follow @BetNHL
BetNHL.ca » Tonights Tips »