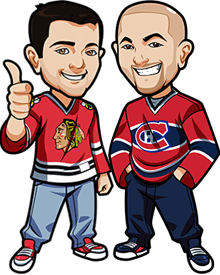 Written by Graeme & Scott on Saturday, April 29th, 2017
It was two interesting games last night in the NHL.
The Blues tied it up against the Predators with a 3-2 victory. However they did seem to get the luck of the referee decisions at times. The Predators can hold their heads up high after their first playoff loss – they played a great game.
The Oilers got a win over the Ducks when Cam Talbot put in the performance of his life. The Ducks threw everything they had at the Oilers but it was a massive win and now Edmonton go back home for the next two games. Could a sweep be happening?
We move onto tonight. The Ottawa Senators hope to go to New York with a big 2-0 lead. Considering the Rangers form at home they know that will be absolutely huge and you'd think the Sens might win at least one game there.
The Capitals need to find the playoff gear that they have never seem to find as they take on the Penguins tonight.
Let's get to it:
Rangers vs Senators Game 2 Betting Tips:
Scott: The Sens won game one 2-1.  Lundqvist was amazing in the loss making 41 saves.
The Sens are home again for this game and will need another effort like that to come out with a win. 
I know the Rangers are going to be ready for this game and will use game 1 as a lesson.  Lundqvist has been amazing during the playoffs and the game winning goal was from an impossible angle.
I think they the tie the series up this afternoon
Rangers win incl OT/SO
Graeme: I'm done betting against the Sens. I just can't bet against them anymore. They've put in some tremendous performances and gained my respect. I've got my series bet of the Rangers to win and I'm happy with that. I do think the Rangers have proven they can win when it matters and I feel this one matters – but I'm not a fan of the odds.
Instead I'm going to bet on Derick Brassard to have over 2.5 shots on goal. Brassard gets a lot of opportunites at home to ring up the shots. Sens racked up over 40 shots on Lundqvist last time and I see a very offensive Rangers team here.
For Americans you can bet that at Bovada. Canadians at Bodog. Outside of North America I can't see where to bet that but you could go with Brassard to get at least a point at 888 Sports.
Penguins vs Capitals Game 2 Betting Tips:
Scott: Game one was awesome as all games are when the Pens and Caps play each other.
Crosby scored twice in less then a minute and Ovechkin had one of his own but it was the Pens winning 3-2.
This is going to be a good long series. I picked the Caps to win the series and I still like their chances despite the loss.
I like the Caps in this game but no real value in a Caps win and not confident in picking in regulation so I'm going to go with Over 5.5.
Game 1 hit 5 but now that these teams are getting reacquainted with each other I expect the goals to be higher this time.
Over 5.5
Graeme: This is a must-win game for the Caps. However they had a few of those against the Leafs and I wasn't too impressed. I mean the last 3 wins they had – all tight. 5-4 and 2 OT wins. Wasn't too impressive.
The odds just aren't there for them either to the point it makes me tempted to back the Penguins.
The Capitals didn't seem to really take their time with their shots in Game 1. They had a ridiculous amount of shot attempts.
I think we'll see a more clinical offensive performance from the Caps tonight which will lead to goals – however the Penguins have proven they can match a team on goals.
Over 5.5 Goals
Canada: 1.91 Odds at Sports Interaction + $20 Free Money Line Bet
USA: Best Odds at Bovada.
Everyone Else: 1.90 Odds at Bet365.
Best America Sportsbooks for NHL
BetNHL.ca » Tonights Tips » April 29th, 2017 NHL Betting Tips