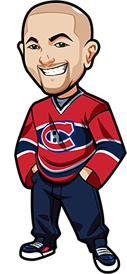 Written by Graeme on Saturday, April 29th, 2023
Follow @BetNHL
1-1 for me last night, 0-1 for Scott.
Bruins/Panthers went over with absolute ease. Not really a surprise. Panthers have that magical touch when it comes to scoring on the Bruins. That one also won me my Panthers +1.5 for the series bet, which was 2.35 odds and was a nice little win.
Going to make for a real interesting game 7.
Lost with the Wild to beat the Stars. That's a bet I am regretting in hindsight. I just don't think there was enough there to back the Wild looking back at it. There was the 5 vs 5 data but it wasn't overwhelming or anything. Frustrating, but easy to make those mistakes in the playoffs with less games.
Three games tonight as we can see both remaining Canadian teams go through Leafs and Oilers both on the road, both hold 3-2 leads over their opponents.
Lightning vs Leafs Betting Tips:
Scott: Well the Leafs couldn't get it done at home and now have to travel to Tampa Bay for game 6 and if they can't get it done there then it's game 7 back in Toronto.
This all sounds familiar doesn't it.
I have no idea who wins this game. The Leafs were more physical but the Lightning took more shots. I'll happily skip the Leafs and Lightning games for the rest of the 1st round.
No Bet.
Graeme: Playoff betting can be so tricky. I backed the Lightning last game due to one simple reason – they had been the better team overall, and in 3 out of the 4 games and they duly delivered.
So now you have to add the last game to it all, and ask yourself if anything has changed?
Well the venue has changed, as has the odds. In regard to the way both teams play? I thought the Leafs played a better game that last one. There were periods where they just showed so much confidence.
Then you have the Justin Holl situation. Man, the media just brutal on that poor guy. But you gotta think he might be benched or see playing time drastically reduced. Thing is I think you can place a lot of blame at Keefe himself, and his lack of good coaching.
You look at the metrics for all the games and Tampa are better in every category.
Honestly? It'd be really easy for me to skip this game. But I think when we're getting slight dog odds on Tampa at home, it's barely an +EV bet. I'm not like crazy confident about it or anything. Leafs are certainly capable. But it's just one of those I look at and think yeah the math makes sense on this one.
Lightning to win incl OT
Ontario: 1.95 Odds at Bet365 (Americans: We recommend http://www.bovada.lv
Canada: 1.95 Odds at Bet365 (Americans: We recommend http://www.bovada.lv
USA: -109 Odds at BetOnline.
Everyone Else: 1.95 Odds at Bet365 (Americans: We recommend http://www.bovada.lv
(Odds correct as of 2023/04/29 8:58:46 AM EST but are subject to change.)
Rangers vs Devils Betting Tips:
Scott: So the Devils picked up their first win at home and now that they have that done they can win the series and move on in New York.
The Rangers looked like the better team in the first 2 games but the Devils have responded with 3 straight wins. I thought the Rangers were the better team heading into this series and after the first 2 games it seemed like it. But the Devils are rolling now and the momentum is going for them.
Surely the Rangers home fans will give them a boost but will it be enough to push them to a win?
No Bet
Graeme: Games like that last one are always so huge for me. Not that I won the bet, but that I was able to spot the signs of the Devils offense, and take advantage. They had been very quiet their first few games, but the metrics were suggesting they'd put up a big performance, and they were able to do so.
I am wary of the Rangers though and their ability to turn it on at a moments notice. They do have the quality. And despite being grannied, their offensive metrics were better in that last game.
They do have a better SCGF/60 still than the Devils too although that's obviously dropping.
It's strange, but despite the confidence I felt in the Devils last game, and then them winning 4-0, I just don't have the same feelings this game.
This is a PURE GUT PLAY. There is nothing in the metrics indicating it. But I'm going to go with Over 5.5 goals incl OT. I can't even write anything to really back it up. It's just one of those things where I am looking at everything and thinking – I'd regret not making this bet today. Up to you if you want to follow my gut or not!
Ontario: 2.10 Odds at Bet365 (Americans: We recommend http://www.bovada.lv
Canada: 2.15 Odds at BetOnline.
USA: +115 Odds at BetOnline.
Everyone Else: 2.15 Odds at BetOnline.
(Odds correct as of 2023/04/29 8:58:46 AM EST but are subject to change.)
Kings vs Oilers Betting Tips:
Scott: These teams have had 3 days off between games. In the last game the Oilers chased Korpisalo from the net and Copley came in and wasn't any better.
This has been a good and close series. The Kings find a way to stay in each game which has been great for them.
With all the time off in between games its hard to try and predict the outcome of this game. Both games that have been played in Los Angeles in this series have gone to OT and 1 in Edmonton did too.
With all of the overtime needed I have to skip this game. Would lean towards an Oilers win but would need to be regulation so that's a no for me.
No Bet
Graeme: Kings at home and are big dogs.Oilers are better in most metrics with SCGF/60 now tied in all situations (Kings still lead it in 5 vs 5).
I wouldn't have Kings as big dogs, but I also get it. I can't bet against the Oilers now their offense is rolling hard and over 6.5 is like 1.74 odds which is not good. No Bet
Follow @BetNHL
BetNHL.ca » Tonights Tips »