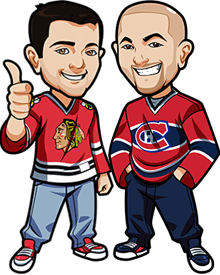 Written by Graeme & Scott on Saturday, May 2nd, 2015
Follow @BetNHL
First of all – if part of your morning routine isn't going to NHL.com to see what wacky headlines they've came up with – you're doing it wrong.
It's something we've been doing all month. Whoever is doing their headlines these days is incedible. The Tampa/Habs recap headline is "OH BAY BAY", but out favourite of the day is without a doubt the Blackhawks/Wild headline – "TAKES TEU TO TANGO".
Last night had two thrilling games. The Chicago Blackhawks took a 3-0 lead over the Minnesota Wild. It was eerie as it was like Round 1 Game 1 for the Blackhawks but reversed – as THEY were the ones to blow their 3 goal lead. However Hawks prevailed and got the big win in a series that looks like it might be fairly tight.
Tampa Bay Lightning defeated the Montreal Canadiens in the 2nd period of overtime. That was an intense game, and looks like it is going to be an intense series. Bishop was interesting – had some big saves but really shouldn't have let that goal in.
Gotta love the NHL Schedule with just 1 game today at lunch time, then 3 tomorrow. It kicks off very soon actually, and it's the Capitals vs the Rangers.
They go into this one in New York, with the Rangers 1-0 down in games. The last game was marred in controversy. Let's see how this game goes.
Scott: Well game one was close and the ending was insane. Or at least I'm told. Was watching the game, saw the Rangers tie it up, watched a little more then thought that I should leave to get home and be there in time to catch the start of OT. While starting my car I get a text from Graeme "OMG what a finish". Left a minute to early. Going to go with Rangers tonight. But the moneyline is at 1.56, well below our minimum and I don't have the confidence to go with a Rangers regulation win. So unfortunately, no bet from me.
Graeme: Well we said it yesterday – if you think Rangers win the series, now is the time to bet it. 2.40 odds is a completely ridiculous price listed at Bovada for Americans and http://www.Bet365.com for everyone else. after just 1 game.In saying that, I also think 2.40 odds is too high on the Capitals for this game. Everyone is expecting the Rangers to come out bloodthirsty and with a vengenance.
I've personally been flip-flopping all morning. I think if you believe that Rangers are going to win, then they have to do it in a solid, dominant fashion at which point you'd bet regulaton time. But I'm concerned with their results against the Penguins. On the flip side – Capitals making a meal of the last series, and the fact that many believe they cheated to steal Game 1 of this series is affecting the odds of this game. Capitals should probably be 2.20, so for pure value I'll be betting the Capitals to win.
Remember – bet at http://www.5Dimes.eu for Americans(Need to register to see lines) and and http://www.Bet365.com for everyone else..
Follow @BetNHL
BetNHL.ca » Tonights Tips »