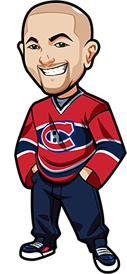 Written by Graeme on Thursday, April 2nd, 2020
Follow @BetNHL
Welcome to the digging for scraps and betting on anything I bloody can betting tips for April 2nd, 2020.
Alas last time out my Irish Lottery Betting Tips were a complete bust. Don't blame me – blame those bloody Irish men and women who have zero idea how to draw the correct balls. I mean the #14 and #15 were drawn? Useless.
However there actually is some hockey going on today and tomorrow so hey why not attempt to get back to norm with some actual hockey betting tips.
Speaking of getting back to norm – it's always quite funny talking to some of my friends who absolutely cannot deal with this whole "working from home" lark. One friend who would go to the office then come home and spend hours playing video games on his laptop at night now can't stand that, after being stuck at his laptop all day long. Others are of course taking to alcohol earlier and earlier in the day simply to pass the time and so on, or are going stir crazy. They can't handle attempting to work while their kids are there interrupting them etc.
For me….not much has changed. I work out of my house anyway so it's same old, same old. I still go out every day for my daily run or walk. I'm used to working with the family at home and have adapted to it over the years. Really the biggest loss for me is simply small things like going to the grocery store once per week as opposed to 4-5 times, or not being able to stop for a draft beer while out.
The loss of sports sucks for sure, but also makes things a bit more relaxing. I track everything I do with an app/device called Timeular, and it's funny looking at Saturdays where "NHL Tips" was about 4-6 hours at times and then last Saturday it was like 25 minutes. Then there's no pressure involving sports or sports betting which is surprisingly nice.
Hope all of you are holding up though as I know what a drastic change it can be.
Let's get on with the tips:
Liga Pro Short Hockey 3×10 Mins Betting Tips:
So people get the chance to read this and bet on it if they so choose, I am looking at the game featuring Chetyre Ronina vs Boevye Lisy which takes place about 2:50pm EST.
It's an even game with Boevye Lisy at 2.20 odds, Ronina at 2.25 odds and the tie at 4.90 odds. Over/under is set at 7.5. Michael Hutchinson must bet in net.
These two played yesterday and Ronina ran out 7-2 winners hoever 2 days before that, Boevye won 4-3. Honestly these two teams when you look at it trade wins a lot.
The majority of their games against each other don't go over. Running the numbers, the majority of games these two play lately seem to go under and I'm good to back that.
Under 7.5 Goals at 1.85 odds
Belarus Extraliga Betting Tips:
This one is actually tomorrow featuring Yunost Minsk vs Shakhtar Soligorsk. Yunost Minks are 1.28 favourites with the under expected here as Under 5.5 is 1.42 odds. 2015 Carey Price must be in net.
This is of course part of the playoffs. Yunost Minsk just look like they have Shakhtars number here. They've beaten them consistently in the playoffs and in Group 1 and I see no different. I think the writing is on the wall here for Shakhtar and they will give up early. From what I gather speed is a factor and Yunost got off to a fast start in the last game and I think will do it again.
Yunost -1.5 at 1.90 odds
Follow @BetNHL
BetNHL.ca » Tonights Tips »