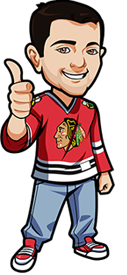 Written by Scott on Saturday, April 2nd, 2022
Follow @BetNHL
We had one tip yesterday and it was a win.  We had over 6 in the Sens vs Wings game and the Sens won 5-2.
Sorry that these are going to be short.  I have a bunch of stuff I have to do before work.
Not much I like today and the odds aren't helping that.  And we have an early game too so let's get to it.
Panthers vs Devils Betting Tips:
It's the Panthers and they are favored.   But they are a much better home team than they are on the road. 
I'm pretty sure they will win but they play good on the road and great at home.  With their road record I don't have the confidence I usually do when they play.
The odds are to lean for the Panthers here so I can't take them.
Penguins vs Avalanche Betting Tips:
Two teams who are threats to win it all this season.
Pens are 6-3-1 last 10, Avalanche are 7-2-1.
I have no idea who wins here.  It should be a great game to watch but I can't tip it.
Jackets vs Bruins Betting Tips:
Bruins heavy favorites and the odds make this tough to back them.
A Bruins -1.5 pick is only 1.76.  The Jackets have lost 5 straight and the Bruins have gone 8-2-0 over last 10.
I do like their chances but the odds aren't worth it.
Kings vs Jets Betting Tips:
I did bet on a game with the Jets involved and thankfully it came through for us.  But it made me nervous and I'm back to avoiding the Jets.
Canadiens vs Lightning Betting Tips:
Habs still in the basement and Lightning on a 4 game win streak.
The Lighting -1.5 is only 1.76 so there's no value in taking them.  It's a risk and the reward isn't worth it.
Wild vs Hurricanes Betting Tips:
Should be a good game here.  I'm not sure who wins it.
The Wild lost their last game which stopped their win streak at 7.  The Canes are 4-3-3 over last 10.
The Canes aren't playing as well as they usually do so I can't back them against a team like the Wild.  And the Wild just had that win streak snapped so not sure how they will respond.
Leafs vs Flyers Betting Tips:
Odds are shit here.  I like the Leafs to win but it needs to be -1.5 and with the Leafs goalie situation I'm not sure I can back them here.
Mrazek is out, Kallgren is young and Campbell is ready to play again but had been out for 3 weeks so he may be rusty.
Blues vs Flames Betting Tips:
The Blues played last night and lost 6-5 in overtime.  The Oilers were up 4-1 after the 1st but the Blues stayed in it to force OT.
The Flames have lost their last 2 games but are at home where they have gone 21-7-7 this season.
The Blues played last night do they may be tired and the Flames are 5-3-2 over last 10.
I'd lean towards a Flames win but it would have to be -1.5 and I can't back that.  The Blues made a big comeback last night so they may feed off of that.
Stars vs Sharks Betting Tips:
Stars should win this game.  They are still fighting for a wild card spot and are only 1 point out.
The Sharks have lost their last 2 and are 4-5-1 in last 10.  The Stars have won 2 in a row and are 6-4-0 in last 10
Stars win incl OT/SO is my tip, I wouldn't be against the regulation pick either but I'm going the safer route and including OT/SO.  I'm seeing odds right around 1.70 so right at our minimum.
$25 risk free bets on player prop, in-game bet and $50 risk free mobile bet. Available for NEW customers only at BetOnline.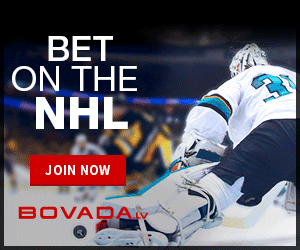 Follow @BetNHL
BetNHL.ca » Tonights Tips »