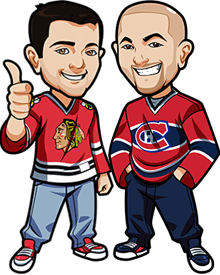 Written by Graeme & Scott on Monday, April 30th, 2018
Follow @BetNHL
Yesterday in the NHL the Washington Capitals gave the Malkin-less Pittsburgh Penguins a 4-1 thumping to tie up the series, and the Winnipeg Jets were involved in a thriller with the Nashville Predators. They were unlucky to lose that one 5-4.
It makes for a very interesting Game 3 & 4 in the Jets/Preds series. The Jets won the first game in Nashville and came so close in the second. Based on their home form this year, it's going to have to take some big performances from the Preds to pick up a win in Winnipeg. But that's what they have to do now if they want to win the cup.
We turn our attention to Monday, April 30th where we've got two games on the board.
The Bruins cost an upset in Game 1 over Tampa with a big victory. Can they do the same here? The Knights were very unlucky to lose to the Sharks in Game 2 but now they've got to bring the show on the road. Expect a big effort from San Jose tonight.
Scott was hoping to get his tips in as he's flying home from Mexico today but looks like the Wifi on the plane has crapped out. I'll add his later to the comments if he's written anything. Let's get to it:
Bruins vs Lightning Game 3 Betting Tips:
Graeme: The Tampa Bay Lightning need to step up and this is going to be a desperate game from them. The last thing they want is to go to Boston down 2-0 as TD Garden is a fortress.
Their offense is going to have to get clicking and perform better because I can't see them shutting out the Bruins top line. It's just too damn good.
Tampa have did that a lot this season – to win they've decided they just have to score more goals and then went out and did that. They're one of the only teams who seem to be able to turn that on like a switch.
Not sure if it'll be enough tonight and as someone with a lot invested in Bruins going far, I hope they don't. But I'm good with Over 6 Goals for 1u.
Knights vs Sharks Game 3 Betting Tips:
Graeme: This is going to be a very interesting game and the Vegas Golden Knights are just slight underdogs for this one.
I don't know what to expect here. The Knights have obviously proven themselves a lot this season and are the better team. I'd like to be on them here but I just can't advise it. Playoffs are a scary time. And with the way they have been defensively I see nothing in the over/under.
Personally I think it's going to be hard to decipher these on a game by game basis. So it's No Bet for me and I'd advise if you haven't yet, bet the Knights to win the series as I think overall they will, and it's at about 1.85 odds.
Follow @BetNHL
BetNHL.ca » Tonights Tips »