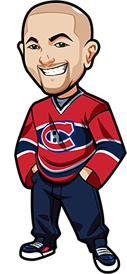 Written by Graeme on Thursday, April 30th, 2020
Follow @BetNHL
One more day and we win our Yellowstone Earthquakes bet.
I tipped under 6.5 earthquakes in Yellowstone in April and there has been exactly ONE earthquake. Bar some crazy shit going on today, we are good for the win.
Proudest bet I've made in the history of running this site.
I must admit I am disappointed with a lot of the online sportsbooks. They were very creative in the beginning but have kind of dropped off in terms of bets. I know for me personally, the video game simulations were a blast at the beginning but have kind of petered off a bit.
Everything from the NHL side of things remains tentative. Even if it does re-open up in say June – man, I don't even know about tipping it. I've got to think the biggest issue this season – teams not showing up – won't be a factor right? I mean these guys are probably chomping at the bit to get going again.
Man – just think of that first game back, and the national anthems blasting. Just gives you goosebumps. We're all going to be chopping onions that night.
Let's see what I can ruffle up today….
Broadway Theatre Re-Opening Betting Tips:
This bet is available at BetOnline.. You can bet whether Broadway theater performances will reopen before or after September 1st, 2020.
Both bets are 1.83 odds.
That is exactly 124 days away. Broadway is in New York, which of course has been brutalized by COVID-19.
I guess this is kind of related to hockey. All of these people are actors and the NHL has quite a few actors too. Such as Sidney Crosby every time someone taps him. He's put on some real broadway like performances in the past. Then there's the Broadway show "Ain't Too Proud" which would sum up the Red Wings as "pride" isn't even in their vocabulary.
If you go on Broadway.com right now, you can purchase tickets for shows taking place in August as an example. To Kill A Mockingbird, Hamilton, Wicked and others. Interestingly you can go through the entire process and actually purchase your tickets.
Their last announcement stated that shows have been canceled through June 7th.
Of course we have quite a few states re-opening. Regardless of what everyone else thinks – there does seem to be a priority to get things up and running again.
The plan in New York will be phases. And there is going to be two weeks in between each phase.
However I think they are going to rush things. I think as long as the re-opening plan doesn't see a humongous second wave, they will live with it. And there is something grand about being able to declare Broadway re-opened again.
NYTix.com analyzed it and said that July 1st, 2020 is a conservative estimate. I agree and I think it will all open again July through August. There will be restrictions in place no doubt.
However I am taking the bet that Broadway will reopen before September 1st, 2020.
As mentioned, you can place this bet at BetOnline..
Follow @BetNHL
BetNHL.ca » Tonights Tips »