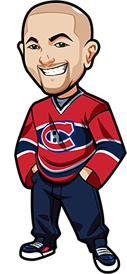 Written by Graeme on Friday, April 30th, 2021
Follow @BetNHL
Well this was a week in hockey that Scott will want to forget fast no doubt. The hockey gods had it in for him this week, with the Oilers the latest to do the dirty on him.
I must admit I didn't watch too much hockey last night – I'll get caught up today – as I was focused on the NFL Draft.
As someone who is from Scotland originally and doesn't really get the whole college football deal – I've never fully understood the big deal about the NFL Draft. I mean I know that it's important and all that but all the people who attend it live – NFL draft parties etc – just seems a bit mental.
Last night though I was consumed by it. So many interesting stories going into it, and then of course the big questions around the 49ers picks. Then we had so many fun stories throughout the draft. As a Pats fan I went from not super caring to sweating every pick until we got Mac.
Then there was the Eagles trading with the Cowboys and screwing over the Giants. That was awesome. Overall a fun NFL draft night I gotta say.
Four games today. The playoff picture is looking a lot clearer now. This is the time of year where we often take a break from bets or do very few. As this bizarro season doesn't count in the stats though, I may be a bit more loose with my plays as long as I can find the math and reasoning to back it.
Four plays today let's see what we've got:
Canadiens vs Jets:
The Habs have about an 89% chance of making the NHL playoffs but my god they are making a meal of it.
One thing we have learned from this past couple of weeks is "this team needs to win if they are a playoff team" is not a factor at all, so we have to rule that out.
Previous matchups between the teams indicate the Jets should be able to beat the Habs here. They're also coming off a 5 game losing run at home so will be motivated on the road I would think.
Just hard to back either team here. I do like the Jets but the odds seem pretty on the money.
Avalanche vs Sharks:
Avs come in struggling after three losses in a row. Sharks are on a roll with two big wins and some fun offensive games.
Avs are heavy favourites. Grubauer is likely in net tonight. Otherwise I'd probably back the over here even though I've sworn off them. Rantanen and Donskoi potentially back too.
Thing is when you look at the advanced metrics for the Avs last few games, they are still performing very well. High xG, high Corsi etc. Lots of HDCF. So things just haven't been going their way. Their PDO is incredibly low the last few games.
I gotta say I do like the Avs -1.5 here. It just feels a bit too risky to advise. It can take players time to get back rolling again after being out.
Ducks vs Kings:
These two just trading wins here. I got nothing that can make me advise it.
Coyotes vs Knights:
Coyotes are just unbackable. Don't look like a playoff team. What about the Knights? They are un utter beast mode. Last time these two played it was a 7-4 win for the Knights followed by a 1-0 win.
Knights just seem motivated to win the division and playing well. Teams can slip up and thise could be a potential slip up spot for the Knights but they do seem focused and happy to take them in regulation. If Coyotes do keep their playoff hopes alive by taking down one of the best teams in the NHL then so be it. I like the price on this one though – for Canada anyway. Seems like the sportsbooks feel the "playoff push" is enough for Arizona. 1.5 is a heck more iffy. 1.80 and above I feel fine advising it. At that price it's your call.
Knights In Regulation
Canada: 1.89 Odds at Sports Interaction (SIA) + free $20 bet.
USA: -135 Odds at BetOnline..
Everyone Else: 1.75 Odds at Casumo
(Odds correct as of 2021/04/30 10:22:21 AM EST but are subject to change.)
Follow @BetNHL
BetNHL.ca » Tonights Tips »