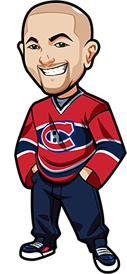 Written by Graeme on Sunday, April 30th, 2023
Follow @BetNHL
Two of the three NHL playoffs were decided yesterday, as the Canadian teams got the job done.
The Toronto Maple Leafs were able to break their rather long playoff series hoodoo to pick up the overtime win against Tampa. And the Oilers fought off a feisty Kings team to win 5-4 in LA, and take the series.
In the other game, the New York Rangers got a big 5-2 win over the New Jersey Devils. After disappearing for three games in a row, their offense returned with a bang.
I've got the F1 starting in just under an hour here so let's get right into it so I can get straight to mimosas and crying as Ferrari drop the ball yet again. Then have Rangers disappoint me right after that. Going to be a grand morning!
Bruins vs Panthers Game 7 Betting Tips:
Scott: I never thought that the Panthers, who got into the playoffs at the last minute, would take the Presidents Trophy winning and record setting Bruins to 7 games but here we are. I mean the Bruins finished 42 points ahead of the Panthers yet they have found a way.
I want to take the Bruins here and will be betting on them personally but I can't make it a tip as the Panthers have been crazy scoring 7 against them in game 6.
No Bet
Graeme: It's been an impressive showing by the Panthers, and I gotta think Bruins fans are starting to sweat a bit. The Panthers are looking like they can score at will against Boston at the moment.
Looking at the metrics for the entire series, the Bruins are better across the board in every single category. If we go by just 5 vs 5, then Panthers win out in xG and SCGF/60.
Honestly? I think the Bruins wrap it up here. I think the Panthers will fold under the pressure of Game 7. Nothing to back this up but I think they'll try and make some unnecessary adjustments that will cost them – "if it ain't broke, don't fix it". Bruins to win 4-2 or something like that.
I've made some good money from this series (4-0 in bets) and I'm happy to sit this one out. But I think based on the way the series has gone, if you're looking for a bet you just gotta back the Panthers to win. It's an +EV bet, and Boston can't seem to shut them down defensively, AND have struggled when going toe to toe with them offensively. Not one I'm personally playing.
Here's the best odds for that:
Ontario: 3.00 Odds at Bet365 (Americans: We recommend http://www.bovada.lv
Canada: 3.00 Odds at Bet365 (Americans: We recommend http://www.bovada.lv
USA: +192 Odds at BetOnline.
Everyone Else: 3.00 Odds at Bet365 (Americans: We recommend http://www.bovada.lv
(Odds correct as of 2023/04/30 6:30:49 AM EST but are subject to change.)
Avalanche vs Kraken Game 7 Betting Tips:
Scott: Another series where I didn't see this coming. The Kraken in their 2nd year in the NHL have taken the defending Stanley Cup Champs to a game 7.
The Avalanche scored 4 unanswered after the Kraken scored 1st and won that game.
Teams play all season to finish high in the standings and earn home ice advantage so the Avalanche really need to take advantage of this and win and move onto the 2nd round.
Would say the Avalanche win but the Kraken have been a tricky team to beat as a game 7 will show.
No Bet
Graeme: A bit similar in thoughts to the Panthers / Bruins game, but with less confidence.
Basically the Kraken are at about 2.80. Honestly, it's probably just a coinflip whether they win or not like the regular season was for the Kraken. But it just feels like it's a pure gamble at this point. I do feel the Avs experience will carry them through.
I do feel the McCann injury will affect them a bit too much. They had that strong win after first losing him but we see that often. Then it kind of settles down and the team struggle.
Looking at the metrics – in 5 vs 5, it's close. Both same SCGF/60, Avs slightly better in Corsi & Fenwick but I mean it's marginal. Kraken with a better xGF. Better HDCF although HDGF is the same.
In all situations, Avs are overwhelmingly the better side.
If you want to back the Kraken, I think it's a pure gamble. I think there's value on it, but you're completely rolling the dice. Personally, although I think it's +EV, I'd rather be on the Avs in this one. This is one I'm personally sitting out and not even doing any pre-game bets for entertainment value. No Bet.
Follow @BetNHL
BetNHL.ca » Tonights Tips »