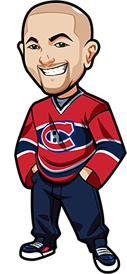 Written by Graeme on Wednesday, April 3rd, 2013
Follow @BetNHL
Back to our winning ways last night. The Bruins vs Senators game looked bound to be over after the 1st period, but just like the Oilers/Flames game from two nights ago it had a goalless 2nd period and that's what helped us, as the game went to a push.
We also had Panthers vs Lighning a goal in 9:30 and there was a goal at the 8:36 mark. Finally we had Washington, who I said needed to treat every game like it was the Stanley Cup Final. Well they did just that putting a fantastic 2nd period to win the game against the Hurricanes 5-3, after a few early jitters.
So an excellent 2-0 winning night. Although really did anyone care about the actual hockey games yesterday? It was more about the trades. And how about them Penguins? One game without Sidney Crosby and they're ripped to absolute shreds by the Sabres. Oops! Maybe they won't be handed the cup after all.
I don't know about you guys but I'm more excited for this years playoffs than any previous playoffs for the last few years, and it's not just because my Habs are in them. Just so many interesting games coming up, and it'll be interesting to see how such a short season plays out in terms of the playoffs.
Scott will be back from Mexico and providing tips on April 5th I believe and we'll be going back to alternating. He'll then do tips for the 20th-27th of April while I go party it up in Vegas and Edmonton for a week. Hopefully he can go on as hot a run as I did!
5 games up on tonight, April 3rd, 2013. The Penguins hope to recover as they visit the Rangers, who will be smelling blood. Habs have a tricky visit to the Flyers, while we see the "Battle of Alberta" again, this time with Calgary as hosts.
Before I provide tonights tips I recommend paying attention to any trades that go through. They can drastically affect a teams performance both positively and negatively, so it may be a good idea to wait till an hour or so before the games to bet tonight just in case there are any major trades or changes to the tipped teams.
Let's get on with tonights tips:
Flames vs Oilers Betting Tips: Flames To Win
This is a tricky one, but one thing I've learned over the years is that when you're having a "Battle of Alberta" that all rationale goes out the window. Oilers are on a good run, actually have a hope of playoff hockey, recently destroyed the Flames. Calgary are also dealing with the losses of Iginla and Bouwmeester, and with 3 1st round picks may already have given up and be looking at next season, right?
However the Calgary Flames are not out of it yet. We've made a lot of money this season betting on the Flames at home. It's their abysmal road record where they are suffering – they're 10-6-2 at home and just 3-11-2 on the road.
I like the Flames to cause the upset, especially when we are getting 2.1 odds over at WBX on Calgary to defeat Edmonton.
Wild vs Sharks Betting Tips: Wild To Win
Going for the underdog pick of the Minnesota Wild to defeat the San Jose Sharks here, as we're getting a fantastic price Over at the World Betting Exchange of 2.34 odds.
This isn't because Clowe has left either – although I do think they'll feel his loss today. It didn't affect them against the Canucks, but he wasn't an integral part of the team. He is still someone that will be missed though.
No – it's more about the Minnesota Wild. They're the better team, and they will probably be quite happy to be on the road. Their fans turned on them against St Louis and that was pretty brutal considering how well the Wild have been playing this season. Really that game looked to be fatigue – now they've had a little rest, and will get out of Minnesota looking to prove something.
San Jose are no pushover of course, and are a tough team to beat at home with a 12-1-4 record. But this is a big game for the Wild and I'd value this one more at evens odds of 2.00. To get the 2.34 odds I'm tipping the Minnesota Wild tonight.
Habs vs Flyers Betting Tips: Flyers To Win
We're going to go with our THIRD underdog bet of the night, as we tip the Flyers to defeat my Habs. Philly are currently 2.1 odds over at WBX.
Philly have a poor record obviously, but they've still played well at home. They're 11-5-2 with some big wins at home including wins over the Bruins and the Senators. This is the last game at home where they've really picked it up – I really think that Bruins win gave them some self-belief, and we saw that against the Capitals where they never gave up.
I'm backing the Flyers tonight, and all three of these bets I would recommend placing at WBX.
Follow @BetNHL
BetNHL.ca » Tonights Tips »