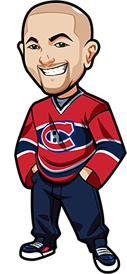 Written by Graeme on Wednesday, April 3rd, 2019
Follow @BetNHL
Last night saw the Minnesota Wild and Chicago Blackhawks officially be eliminated from the playoffs, and the Ottawa Senators officially clinch last place in the NHL.
The Avs will be celerating that one as they own their first round pick. Avs are going to be an absolute beast next year no doubt.
The West is just a battle between the Avs and Coyotes at this point but it's pretty much going to be the Avs.
The East still has no teams clinched in the wild card and it's incredibly tight between the Canes, Jackets, Habs. The Penguins aren't safe yet after a big loss against the Red Wings last night.
If anyone ever says they're betting a team because they "need" a win for the playoffs – this is the season to point to to contradict that.
We have just four nights left in the NHL regular season and I can't wait to get to the playoffs betting tips. We both miss providing tips here, but after a crappy few days to end March we just feel it's safer to stay away this time around until playoffs begin.
Quiet night tonight with just three games and none of them matter in regards to the playoffs.
Here's my thoughts – and just a quick reminder that these aren't tips. We're not doing tips until the playoffs now. Just more casual analysis of each game.
Senators vs Rangers: Sens have been able to score the goals lately. We've seen some better performances from the Rangers too. I'd like to think both teams just go for it here. Rangers showed against the Devils that they have some pride on them with that brief comeback and I love to see that. I'd be on the Over 6 here.
Blues vs Blackhawks: No idea what sort of Hawks team shows up here. A team that with the pressure off go to town? Or a team that after months of hard fighting, tune out a couple of games early? Blues are still in the chase for the Central division and that'd be amazing if they could take it. I mean the way this seasons going I fully expect the Hawks to win 9-8 or some nonsense. But just based on theoretical motivational levels, I think a small play on Blues in Regulation is the way to go.
Flames vs Ducks: Flames are on a tear at the moment. They're picking teams apart and look absolutely ready for the playoffs. One of those teams that want to go strong. Ducks are no pushover but the Flames are showing their depth and everyone out there is fighting for a playoff spot. Love to see that. Make that coaches decision difficult. I'd be fine backing the Flames in Regulation.
Enjoy the games tonight. Back tomorrow!
Follow @BetNHL
BetNHL.ca » Tonights Tips »