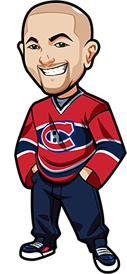 Written by Graeme on Saturday, April 3rd, 2021
Follow @BetNHL
A 1-1 day yesterday in the NHL.
Must admit I was disappointed in the Avs game not going over. That was one that on paper seemed like a nice and easy win. And going into that 3rd period it was looking great – alas no goals there and it slipped under. Such is hockey.
Won with Oilers in regulation which was good to see. That was one I was a tad nervous about as the rivalry games as you can often throw the form book out the window. Was a close result but good to get the win.
It's Saturday. It's busy. I'm too late for the early games. Let's jump into the rest.
Predators vs Blackhawks:
Surprisingly nice price on the Predators here. They beat the Blackhawks on the road twice. Hawks are really struggling at the moment especially offensively.
Preds have actually beaten the Hawks in all 4 games this season. Granted they are all tight ones but still managed it. Preds by the advanced metrics been the better team in every game.
Preds also have the playoffs on their sights. Honestly this is the type of bet I enjoy most – no gut feeling or anything like that. It just ticks all the boxes and we get a price that I feel is worthwhile. With the Preds OT/SO stats we gotta include that in there as opposed to regulation.
Predators incl OT/SO
Canada: 1.85 Odds at BetOnline..
USA: -117 Odds at BetOnline..
Everyone Else: 1.85 Odds at BetOnline..
(Odds correct as of 2021/04/03 12:55:06 PM EST but are subject to change.)
Panthers vs Blue Jackets:
I don't know how the Panthers continue to do it. The team are showing a lot of character lately. This one would have to be in regulation and I can't back them at that.
Hurricanes vs Stars:
These two have played four times with three high scoring games and one at 5. The xG between the two has been generally high. Stars possibly without Hanley. Canes got Trochek back. Canes at home here the next 8.
This is one of those where I am debating the over 5.5 goals. Already got goalies confirmed too which is nice. Will look into this one a bit more and post in comments if it's a play.
Sabres vs Rangers:
Nothing for this one. Odds are a bit crazy considering the last result and the closness between the two. We never tip it but a Sabres +1.5 play isn't the worst here.
Canadiens vs Senators:
Nothing for this one. Despite the last result Sens generally play the Habs hard etc and don't feel confident backing Montreal here. Sens are very poor on the road compared to at home though.
Islanders vs Flyers:
I mean the Flyers are just terrible. Utterly terrible. What a depressing team. Islanders though – not the type of team I feel great backing right now. Coming in off that 12 goal game against the Caps though might really get the Islanders flowing and pumped.
Islanders in reg is a potential play.
Knights vs Wild:
No play here.
Avalanche vs Blues:
Back to back head to head games I stay away from. In saying that, Avs -1.5 is tempting. They are just a beast right now. Grubauer in net. Another one I am going to look at to see if I can convince myself.
Kings vs Sharks:
The Sharks are 4-1 in games so far this season. Sharks have generally outplayed them. Yet Sharks are underdogs coming off that 3-0 win. Interesting. It's a back to back head to head. It's due to Dubnyk I guess but man I still don't hate it. Will think more.
Potential plays: Islanders in reg, over 5.5 in Stars/Hurricanes. Avs -1.5, Sharks.
Follow @BetNHL
BetNHL.ca » Tonights Tips »