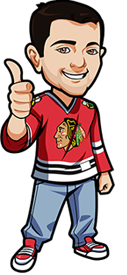 Written by Scott on Monday, April 3rd, 2023
Follow @BetNHL
A busy day of NHL action yesterday.
 
The Jackets beat the Sens 4-3 in overtime when Marchenko scoring 16 seconds into the OT period.
The Bruins beat the Blues 4-3 in a shootout for their 60th win of the season.  The Pens beat the Flyers 4-2 to get them back in the wild card spot.
The Wings beat the Leafs 5-2 and Murray had to leave the game after being accidentally run over by Raymond.  The Jets beat the Devils 6-1 and the Kings beat the Canucks which clinched them a spot in the postseason.
As Graeme mentioned the tips are going to be hard to come by for the next couple weeks.  With the playoff picture getting clearer with each day it's tough to predict each teams drive to win.
A slow day with only 3 games.
Knights vs Wild
Both teams could use the points. 
The Knights have gone 7-2-1 over last 10, the Wild 6-2-2.  On the road the Knights have gone 24-7-6 and the Wild have gone 24-11-3 at home.
They have played twice this season with the Knights winning both by a combined score of 9-2.
The Knights are creeping closer to winning the Pacific and the Western Conference where they have 101 points which is 1 more than the next closest team in both their division and conference the Kings.
The Wild could try and give themselves some breathing room with a win here or at least stay there with the Stars also playing tonight.
I could see this going either way.
Predators vs Stars
The Central is a cluster at the top.  The Wild are 1st with 97 points in 76 games, the Avalanche are 2nd with 96 in 75 and the Stars are 3rd with 96 in 76.
The Preds are 3 points out with a game in hand on the Jets.
I do like the Stars to win but I'm skipping any games with the Preds.
Coyotes vs Kraken
Coyotes have lost their last 7 games, the Kraken have gone 4-4-2 over last 10.
These two play each other 3 times over the next 8 days.
The Coyotes have been a terrible road team going 7-23-9 and the Kraken haven't been a good home team going 17-16-4.
As teams have shown us, there are games where they should win due to who they are playing and their position in the standings but should win doesn't mean anything.
The Kraken "should" win this game and the schedule for them to end the season is favorable with the games against the Coyotes, Hawks, Canucks and Knights on deck. 
But they are in the playoffs and will have a hard time closing the 9 point gap between them and the Oilers.  They have a 3 point lead over the Flames who are in 9th. 
Follow @BetNHL
BetNHL.ca » Tonights Tips »