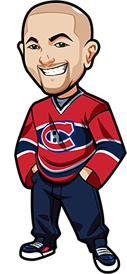 Written by Graeme on Thursday, April 4th, 2019
Follow @BetNHL
Quite the surprising night last night in the NHL – and why I am glad we decided to take this week off as all my opinions on the games proved incorrect!
The Sens and Rangers to their credit did what they could to put the game over. It was the Sens that came out with a big win in that one though.
The Blues – with something to play for – couldn't really get it going against the Hawks. They could never take the lead and the Hawks deservedly won that one in the shootout.
Flames fans have to be disappointed as someone poured a bucket of water on their on fire offense that game.
Thursday, April 4th is a busy day in the NHL with 12 games on the board. Despite doing no tips I'll pick a couple of games where I see a play. The smart thing right now would probably be to bet against what I say!
Also apologies if any mistakes. I'm on a train right now as I type this and it has crappy wifi that also happens to block anything even remotely connected to gambling. So I'm having to use my phone just to see odds etc. Oh and I can't access betnhl.ca from on here – it's blocked! So what I've had to do is write the tips up in Google Drive then remote deskop login to my computer at home, and post them via there.
Red WIngs vs Penguins: A very important game for the Penguins who I'd hope would be out for revenge. Red Wings however are in don't give a shit mode and are looking awesome at the moment. I think with the way the Red Wings are confident and that the Pens have extra motivation – we could see this one go over 6 goals.
Capitals vs Canadiens: The Capitals have had some flat performances lately but they seem to rally. Sometimes it doesn't matter but it's a good sign if they come out flat here. Very important one for the Habs of course and I think based on that last game they're realizing it's not about the goalie – the offense got them here and they need to just keep pushing. I could see it going over 6 goals.
Senators vs Sabres: The way these two teams are playing at the moment how do you NOT throw at least something on the Sens at this price?
Not too much else really jumping out. Sharks vs Oilers is probably a coin flip so a bet on the Oilers there is probably +EV. Both teams are a mess.
Good luck tonight!
Follow @BetNHL
BetNHL.ca » Tonights Tips »