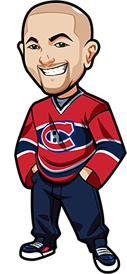 Written by Graeme on Sunday, April 4th, 2021
Follow @BetNHL
Predators got a nice and easy win yesterday in a 3-0 victory over the Blackhawks.
Of my potential plays – Islanders won but couldn't get the job done in reg. Avs barely won and couldn't cover the spread. Sharks got the win and the odds for that one still surprise me. I posted of them I liked the Stars/Canes over the most but that one didn't come in. Canes had a whopping 43 shots in their loss.
Six games today with the Canucks game postponed. Think it will be awhile before we see them play again. The NHL at least seems to have a plan in place if the North Division season has to be extended.
Let's look at todays games:
Lightning vs Red Wings:
Back to back head to head. Nothing for me.
Devils vs Capitals:
Do these teams not play anyone else? Seems like all they do is play each other. Anyway I've made my feelings on this one clear; Devils ride the Capitals hard enough that I can't bet on Caps. However Devils are not worth betting. I honestly don't know if there is a price I would back the Devils at.
Panthers vs Blue Jackets:
Panthers got some guys back yesterday and they duly delivered. It's a back to back head to head so nothing for me here but I'd think they ride that momentum.
Hurricanes vs Stars:
Getting tired of typing back to back head to head. I just don't like those games. I've analyzed them a lot and felt the best thing to do is skip them. The data still points to the over though.
Ducks vs Coyotes:
These two played two days ago and the Coyotes got the win. I don't hate the Coyotes here. If you are looking for a play today this would be the one I'd take. Coyotes are trying to push for the playoffs although it's still going to be tough.
They've had some solid results lately. Looking at the metrics and stats though I'm not fully convinced. I did like how they bounced back from that Avs loss. They've got the Kings tomorrow night.
Coyotes aren't a team I love to back but this one has potential. I'll look at it more and think about it and see.
Flames vs Leafs:
Leafs struggling to get the job done which is off putting. Hutchinson in net. Would have to be Leafs in regulation and I just don't have that confidence.
So a potential play on the Coyotes is all we got today and I don't feel super good about that one but we'll see.
Follow @BetNHL
BetNHL.ca » Tonights Tips »