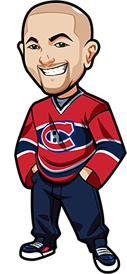 Written by Graeme on Monday, April 4th, 2022
Follow @BetNHL
Hi guys,
No tips yesterday. Things did generally go the way I expected in the games I thought they would. Oilers went over that 6.5 line but boy was that a tight one. Islanders won and the over also hit there.
If you took the value in that Coyotes game then good for you as they got the win in OT. I wanted to back it but it just felt like too much of a gamble.
Quieter night tonight with just the four games. In terms of making the playoffs, all four of them are pretty much meaningless. Kings winning is the most important result tonight as they have one foot in the door and this will bring their chances up to about 96%.
I honestly cannot believe we have an another entire month of hockey.
Due to everything going on with regulated gambling in Ontario at the moment, we will NOT be listing the best odds for any bets at particular sportsbooks until I can find the time to get the site all set up for that.
Jackets vs Bruins:
You know me this past little while – I've felt the Blue Jackets are undervalued by the sportsbooks and there have been a few betting opportunities for them.
They come in having just gotten blasted by the Bruins 5-2. Bruins have been a tad rocky on the road though lately, and we've seen a lot of these head to head back to back games this year where the results seem to flip.
The Bruins do seem to have a strong team mentality going on at the moment with their eyes firmly on the playoffs. Brad Larsen should be back on the bench tonight.
I think Jackets will at least be proper motivated tonight. They're a decent enough home performer. Think there is enough to take a shot on them.
Jackets win incl OT/SO – most books have it at 3.00/+200 which is fine, but the best odds are 3.12/+212.
Lightning vs Leafs:
The over is probably the only bet worth playing here. Do I even have to write much about this one? Campbell returned and let in 3 goals against Philly.
The only real concern is if the Leafs aren't motivated but I mean even when they aren't they can generally score etc.
Yeah seems Over 6.5 incl OT/SO is fine to back. Best odds are -105 although -110 is fine.
Blues vs Coyotes:
Blues playing well and motivated at the moment. Would have to be -2.5 and with the goals conceded by them at the moment – no interest.
Kings vs Flames:
Big game for the Kings. They just got the win over the Flames while on the road and at about 2.50 odds, that's not too bad. But the way things have went this season it won't surprise me at all if it flips around and the Flames get the win.
No bet here. Even with the Flames on a 3 game losing streak I figure they are the type of team who come out and try and snap that. Sometimes a break from home is good for teams in that regard.
Follow @BetNHL
BetNHL.ca » Tonights Tips »