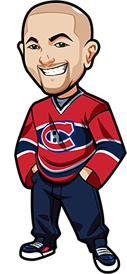 Written by Graeme on Friday, April 5th, 2013
Follow @BetNHL
Scott's still getting settled in after his return from Mexico, so I'm also taking care of tips today.
We won again last night! Love it! We went 2-1. Our only loss was the Boston Bruins. We had the Bruins -1.5 against the Devils and they scored early in the 2nd period to go up 1-0. Unfortunately they couldn't add to that, and it was the night of goalies as both Brodeur and Rask put up solid performances.
However our other two bets were wins! We had the Canucks to score first, and they dominated the Oilers, taking advantage of a powerplay in the 1st period to get the goal, and give us a winning night. Earlier, the Flyers and Leafs went over 5.5 which was one of our tips. That game was awesome and I even watched it over my Habs game, with an electric 1st period and just an overall great game watching the Leafs relentlessly chase the goal that would never come to tie it up.
So, overall great night of hockey. We won money, my Habs won, Jagr debuted with a bang, Capitals continue to power through, and the Blackhawks have an incredibly tight loss against St Louis.
Tonight, April 5th 2013, is a bit quieter. We have just 6 games on the board and all eyes HAVE to be on Rangers vs Penguins. The loss of Crosby is huge for Pittsburgh obviously, and they're also missing Letang and Martin. Rangers meanwhile look like a different team.
Let's get on with tonights NHL tips:
Penguins vs Rangers Betting Tips: Goal Before 9:30
This bet is available online at Bet365, who are probably the best online sportsbook when it comes to NHL Betting with the crazy props and variety of bets.
In 3 of their past 4 meetings, these teams have started fast with a goal in the first 2 minutes. I see it being the exact same here – especially coming off that 6-1 game just a few days ago. Pittsburgh aren't the type of team who are going to sit back – they are going to attack from the off, hoping to get a goal early on and tilt the game in their favour.
The Rangers meanwhile, practically scored at will against Pittsburgh. They're looking incredibly solid and all of their new pickups are playing well. I see Rangers coming out looking to blitz as well, and I like a goal very early on.
Bet Goal Before 9:30 at Bet365.
Stars vs Ducks Betting Tips: Ducks -1.5
In the last couple of games these two teams have played, the Ducks have had the Stars number – winning 4-0 and 5-2 on April 1st and April 13th. I see similar here.
Stars are done guys – no chance of the playoffs, trading away players – they're already looking forward to next season. Anaheim are riding high, with Getzlaf playing absolutely sick at the moment. Ducks should pound the misery on here, as they edge closer and closer to the Chicago Blackhawks.
Best odds for this are at Bet365 with 2.50 odds.
Flames vs Sharks Betting Tips: Sharks -1.5
If you're a Calgary fan I recommend doing something else tonight. Watch reruns of the Bachelor or something – that'd be more enjoyable than this game.
Sharks are killer at home with a 13-1-4 record. Flames are dreadful on the road, with a 3-11-2 record. Sharks are riding a 6 game winning streak, and everyone is killing it on their team at the moment. Calgary – well we saw their collapse against Edmonton. They may not go down without a fight, but they're a struggling team at the moment.
The odds on this one are pretty low – I've shopped around and again Bet365 has the best odds over any other sportsbooks.
Follow @BetNHL
BetNHL.ca » Tonights Tips » April 5th, 2013 NHL Betting Tips