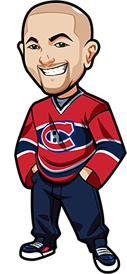 Written by Graeme on Friday, April 5th, 2019
Follow @BetNHL
Hi everyone,
My apologies for being late posting the tips.
I was on my way to Milwaukee today. Was planning on doing this post after check in while chilling in the lounge.
Well I got to the airport. Flight was on time – 8:50am. Went to check in and all good. Then as we are finished the process and she goes to hand me my ticket, shes like "Boarding is at 645pm".
Wait what?
Yeah turns out that my flight got CANCELED while I was checking and so what they did was bump me to the only other Milwaukee flight that day. RIdiculous.
Anyway I managed to get switched to a Chicago flight and make my way from there to Milwaukee. But that one was at 815 and boy there was no time for chilling in the lounge – US customs at Toronto is very busy and so I was stuck in line for about an hour. Oh plus got randomly selected for a security screening ha. Ends up I JUST made it as they were calling my name when I got out security and I was able to race there.
What a morning but hey I've made it at least.
Tonight we have three games on the board. Blackhawks host the Stars Rangers host the Jackets and Ducks host the Kings. Man I should have just stayed in Chicago!
Anyway looking at the games there's not much I like. Hawks to win is the only one I'd be in I think they want to end the season strong.
Follow @BetNHL
BetNHL.ca » Tonights Tips »