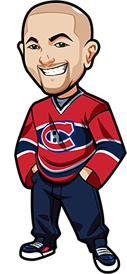 Written by Graeme on Thursday, April 6th, 2017
Follow @BetNHL
Hi guys,
It was a quiet night in the NHL yesterday with just two games. The Buffalo Sabres rebounded with a win over the Habs, and the Capitals defeated the Rangers 2-0.
Quick note that I'm doing a bunch of backend work on the site today so if you notice anything "off" it's probably just me accidentally breaking things.
Over the past week there have been more and more "meaningless" games and we've generally not been focusing on those when it comes to the tips. Behind the scenes we've been analyzing them to see if there is any value but honestly we're not seeing any.
What this means is that come Saturday and Sunday it's very likely we won't have any actual betting tips. We'll still create a post though and hopefully give some opinions on games and bets to make.
As for tonight – not too many meaningful games left but there's still some action. We analyzed all the other games but didn't see anything of note.
Only the two bet tonights. We were initially going to go with the Leafs and then we started laughing about how the Leafs would have to lose all games in regulation to miss the playoffs, while Tampa would have to win them all. Then we realized this kind of mess up is something that only the Leafs could actually do – and it put us off them.
Islanders vs Hurricanes Betting Tips:
The Islanders have very, very slim hopes of making the playoffs and tonight is a must win for them.
Islanders are coming into this game on the back of three wins. They're missing Tavares but that doesn't seem to be stopping them here.
The Hurricanes have now lost 3 in a row and with their playoff hopes shattered, I think they're just playing the season out.
I'm taking Islanders in regulation tonight as I feel the Islanders can get the job done here. I don't expect to see a strong performance from Carolina tonight. They'll be too busy looking back at a lot of their losses early in the season and thinking "What If".
Senators vs Bruins Betting Tips:
The odds help dictate this pick in what we feel is some nice value.
The Bruins have made the playoffs after an incredible last few months of the season. While they still have better positioning in the Atlantic to play for I just don't know if they have any more gas in the tank. It's been a massive run for them and while we've bet and won a lot due to their form – I think there's a good chance they don't show up tonight.
The Senators still need to get to the playoffs and ended a 5 game losing streak with a 2-0 victory over the Wings on Tuesday. They've owned the Bruins in recent match-ups and are going to be the more motivated team tonight.
Obviously they have their injuries and that really hurts – but while they should be the underdogs, I don't think it should be anywhere near as high as 2.75 or above.
Senators to win.
Follow @BetNHL
BetNHL.ca » Tonights Tips »