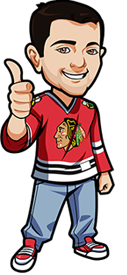 Written by Scott on Monday, April 6th, 2020
Follow @BetNHL
Well there is still no update on when or if we will get back to having hockey.
The only thing good to come from this for me has been me being able to hang out with my wife and kids everyday. My kids are having a hard time adjusting. They all are missing their sports and gymnastics that have been canceled and driveway road hockey just isn't the same after a month. Although I still am able to work, I feel kind of trapped. It's funny now that I can't go anywhere I really want to. I would love to go to a bar and eat some wings and drink a pile of beer, I always want to do that but now that I can't I really miss it. I need a haircut but thats not possible now so I'm going to get my wife to do it. Yes I'm scared lol. But my son also needs his haircut so he is getting his cut first so if it goes bad its his problem. Sorry Brady hahaha.
I have a hard time finding anything to bet on so might as well go back to some Madden Simulations
Madden Simulations Betting Tips
Lions vs Bears 
I mentioned in a previous article that I am a Lions fan. They had a horrible season going 3-12-1 and finished in last place in the NFC North. The Bears went 8-8 and finished in 3rd in the NFC North.
They played twice during the regular season and the Bears won both of those meetings but both games were close.
Lions +4.5 at Bovada/Bodog
Seahawks vs Eagles
The Seahawks had a great year going 11-5 and finished in 2nd place in the NFC West behind the 49ers. The Eagles won the NFC East going 9-7.
I'm going to take the road team Seahawks in this one. Their record during the regular season vs the Eagles record has me liking their chances
Seahawks -3 at Bovada/Bodog
Follow @BetNHL
BetNHL.ca » Tonights Tips »