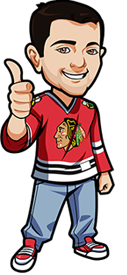 Written by Scott on Wednesday, April 6th, 2022
Follow @BetNHL
2 tips yesterday and we went 2-0.
We had the Rangers to win in regulation against the Devils and they did 3-1.  The Rangers only took 17 shots on goal in the win.
We also had the Stars to beat the Islanders and they did 3-2.  The win moved them into the wild card.
The Panthers were down 5-1 to the Leafs but stormed back to win it 7-6 in overtime.  Huberdeau had a game for the Panthers with 2 goals and 3 assists.
The Avalanche became the 2nd team to clinch a playoff spot when they beat the Penguins 6-4.  This was the Avs 50th win of the season.
Only 5 games today.  These will be short as I have something to do today before work.
Lightning vs Capitals Betting Tips:
Big game here.  Both teams are in 4th place in their respective division.  They are currently the 1st and 2nd wild card teams in the East.
The Lightning can move back into 3rd with a win and trade places with the Bruins.  The Caps won't move up or down but surely would love to gain some points to shorten the lead the Pens have on them as they are currently in 3rd.
I find it to tough to call.
Wings vs Jets Betting Tips:
This seems like a game the Jets should win but I'm still nervous of tipping games with them involved and even more so if I were to pick them to win.  No bet here
Kraken vs Blues Betting Tips:
The Kraken are bad and to get any value on the Blues we would need to take them -1.5.
I do like the Blues chances to win here but am worried about taking them to win the game by 2 or more.
Flames vs Ducks Betting Tips:
Like the game above we would need to take the Flames to win -1.5.
I like the Flames to win but their record over last 10 is 5-3-2 and they are on the road.  The Ducks long time captain Ryan Getzlaf announced that he was retiring at the end of the season so that may give the Ducks some motivation.
Canucks vs Knights Betting Tips:
The Canucks have gone 3-4-3 over last 10 and are 9 points out of the playoffs and in the West that's a lot of ground to cover.
The Knights are in 9th place and only 1 point back of the Stars. They have won 5 straight home games and their last 5 overall.
They are playing for the 2nd game in a row and the Knights won the game on Sunday 3-2 in overtime
With the Knights at home and in desperate need of points to jump back into the playoffs I like their chances and they are playing a Canucks team who has lost 3 in a row.
Knights win in regulation – seeing odds around 1.90
Follow @BetNHL
BetNHL.ca » Tonights Tips »