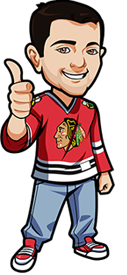 Written by Scott on Saturday, April 6th, 2013
Follow @BetNHL
Good low scoring night of hockey last night and as expected the game of the night was the Bruins – Habs tilt. With the win the Habs are now comfortably in 2nd place in the East and are only 3 points behind the Penguins with one less game played.
A great day of hockey for us to watch and bet on today, 8 games total. Big Central Division matchups happening today with the Blues & the Red Wings at 12:30 and a rematch of yesterdays game the Predators vs the Blackhawks at 7:00. Also some bug Pacific Division game happening; Stars – Sharks at 4:00 and the battle of Los Angeles with the Kings and The Ducks. For our Canadian content of the day its the Senators playing the lowly Panthers.
Hard to believe that some teams have less than 10 games left to play!
But no time to whine its time for the NHL Betting Tips for Sunday April 7th
Lightning vs Capitals Betting Tip: Over 5.5 Goals 1.89
Washington has been trading places with the Jets and after the Jets win last night the Caps are now back in 10th. But the Caps have three games in hand on the Jets and I believe that they will be going all out for their remaining games including this one. The Lightning are in 14th place in the East and 8 points out of the playoffs with very little time left so there is no time for anymore loses.
This is the 3rd of 4 meetings between the teams with the season series currently tied at 1 game a piece. With the Over / Under being 5.5 I think it is safe to say that this game will be over that, the combined goals from both teams in the first two games is 16 or on average 8 per contest. Head to Pinnacle Sports and take advantage of their consistently great odds for all bets with this one being 1.89
Wild vs Blue Jackets Betting Tips: Wild To Win 2.05
Minnesota will look to snap their current 4 game losing streak with a win over the Jackets, who have to be the biggest surprise team of the year, and with a win they will put a big dent in the Blue Jackets playoff hopes for the year. Both teams made some significant moves at the trade deadline: The Wild went and got Jason Pominville while the Jackets made one of the biggest splashes of the trade deadline by signing Marian Gaborik.
Columbus has been a great story so far this year but the Wild have spent WAY to much money to not make the playoffs and will be a team not many would want to have to play in the first round. Pinnacle Sports again has the best odds for a Wild win at 2.05 so head there to place this bet
Blue vs Red Wings Betting Tips: Red Wings To Win1.847
When was the last time that one let alone both of these teams would be in 7th and 8th place in the Western Conference fighting to stay in. But that is exactly what is happening today and this might be the game of the day! With only one point separating these two teams this game is incredibly important for both clubs
This is the 5th and final meeting between these two rivals and the winner of this game will also win the season series. This game is almost to close to call but the Red Wings are at home and they are team that you have to think will be in the playoffs and I think they take this game. Plus the crazy fans at The Joe will be there to help cheer them on. For the final bet of the night we are going to continue to bet at Pinnacle Sports where the odds for a Wings win are 1.847
For an added challenge and bet, parlay all three of these picks for a healthy 8.024 Betting Odds for all 3 correct Lets see you get those kind of odds from ProLine
Follow @BetNHL
BetNHL.ca » Tonights Tips »