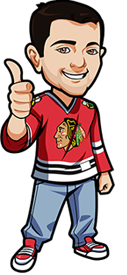 Written by Scott on Thursday, April 7th, 2022
Follow @BetNHL
I had one tip yesterday,  the Knights to win in regulation against the Canucks but the Canucks won 5-1. 
The Knights are still out of the playoffs and should be winning against teams below them in the standings. They have 82 points in in 72 games.  They have only 10 games left.
The Jets lost 3-1 to the Wings and their playoff hopes are quickly disappearing.  They have 76 points and the 2nd wild card teams Stars have 83
Ovechkin became the 21st player in NHL history to have 1400 points when he had a goal and an assist when the Caps beat the Lightning 4-3.
A busy night with 10 games.  It's getting harder each night to find tips with the playoff teams almost set.  I couldn't find a tip I liked enough to make it official and at this point in the season I for sure can't force one.
Flyers vs Jackets Betting Tips:
With both out of the playoff picture it's hard to try and figure out who wins.
With the Jackets at home they get the initial edge but they have been bad recently.  They have gone 2-5-3 over last 10.
The Flyers have also been bad going 3-7-0 and are over 30 points behind the wild card spots.
It's tough to try and predict a game where both teams have both teams have all but been eliminated and are now playing for pride.  I have to skip.
Penguins vs Rangers Betting Tips:
The Penguins are in 3rd in the Metro with 92 points,  the Rangers are in 2nd with 96.  Unless something crazy happens in the next couple weeks this could potentially be a first round matchup. Of course the Caps could go on a run and push their way into the top 3 but as of now they have 86 points.
The odds for this game are a coin toss and it makes sense.  I could make a case for either team to win here as both have a good shot.  I'm sure this game will look and feel like a playoff game and those are tough to call.
Predators vs Senators Betting Tips:
I won't be tipping this game as it's the Predators.
I like their chances to win but it would need to be in regulation and that's a tough play.  The Sens have won 3 in a row but are so far back in the standings that this game really doesn't matter to them.
Canadiens vs Devils Betting Tips:
Both teams are out and are the bottom 2 teams in the Eastern Conference.
With Hughes out for the year it may be time for the Devils to try out some youngsters and give them extended auditions for next season.
I have no idea who wins this game.
Sabres vs Hurricanes Betting Tips:
The Canes have lost 2 in a row and have gone 4-3-3.  They are still in 1st in the Metro but their lead is now only 2 points.  They have 98 points and the Rangers have 96.  The Canes need to get their shit together and fast.
They are the favorite for this game and for good reason but to get any value we would need to take them -1.5 and the odds for that are only around 1.76 and with the way they have been playing lately I can't back that.
Kraken vs Blackhawks Betting Tips:
Both teams are out so its another game where it's hard to predict.
The Hawks will be honoring Marian Hossa tonight so they may come out pumped.  But they have lost 5 straight and we would need to take them in regulation and I can't do that.
Leafs vs Stars Betting Tips:
The Leafs are 7-2-1 over last 10, the Stars are 7-3.
The Leafs have a 3 point lead over the Bruins and Lightning for 2nd place in the division.
The Stars are in the final wild card spot in the West but are only 1 point back of the Preds.
Crucial points on the line for both teams so this should be a good game.  Both teams are playing well recently so it's too tough to call for me.
Canucks vs Coyotes Betting Tips:
With the Canucks playing, and winning, last night I'm curious to see what they have left in them.
They have gone 3-4-3 over last 10 and despite the win last night are still 11 points out of the playoffs.
The Coyotes have long been eliminated and Keller is done for the year. 
If you like the Canucks to win you would have to take them in regulation and even that has odds only around 1.76.
Flames vs Sharks Betting Tips:
The Flames are the favorite here and to get any value on them we would have to take them -1.5.  But they have played the Sharks 3 times this season and the Sharks have won all 3.
The Sharks are way out of the playoffs and sweeping the 1st place team in their division could give them something to celebrate in a year where they have had very little to be happy about.
I do like the Flames but with the results between these teams I can't back the handicap which is the only way to get above out minimum so I have to skip.
Oilers vs Kings Betting Tips:
Big game here.  If the playoffs started tonight this would be a 1st round matchup.
The Oilers are in 2nd in the Pacific with 87 points in 71 games, the Kings are in 3rd with 86 in 72 games.
They have played 3 times with the Oilers winning twice but one of the wins needed a shootout.
The Oilers have won 5 in a row but with both teams knowing they could be playing a bunch against each other shortly this game should have a different vibe to it.
Tough to call this one.  If I had to pick a team to win I would go Oilers including overtime but I'll instead skip and just watch.
Follow @BetNHL
BetNHL.ca » Tonights Tips »