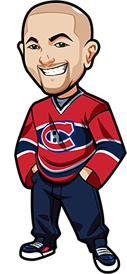 Written by Graeme on Saturday, April 8th, 2017
Follow @BetNHL
Hopefully you followed my Lightning in regulation bet last night because that ended up being a nice profitable night at the bookies. Tampa won in regulation over the Habs to keep their playoff hopes alive.
That was not an official bet so won't be counted in our stats.
It was just a one game night but I had my fill of sports anyway watching the Masters from open to close last night.
When it comes to betting, I don't think there's any sport I love watching more than golf. It's so easy.
You're essentially sitting there cheering on 1-4 people while rooting against the rest. So it means you're hooked at all times(at least in the early rounds). Makes it so fun to wach.
In regard to the NHL itself – we've got two games that actually mean something tonight.
The Maple Leafs host the Penguins while the Islanders visit the New Jersey Devils.
I'll analyze both of those in a minute but first I want to let you know the other bets I'm making tonight. As a reminder these are not official tips.
Blue Jackets to Win: I just feel like 5 losses in a row for the Jackets is enough. They're missing Werenski which sucks but I believe Bobrovsky will be back in net tonight. Assuming he is I'll be betting them to win. I feel they have too much pride and they're going to give this one a go.
Capitals to Win: No odds on this one yet. Not sure I'll be betting it but I'll need 1.80 or above. Capitals have beaten Bruins the last 8. Bruins are a tough team for sure but I think they'll lose this one. Neither team will push too strong and the overall quality of the Capitals will win out – especially with Krug/Marchand out. However be sure to wait and see who is being rested for this game as that will be a factor.
Hurricanes/Blues Over 5: I think we'll see a better performance from the Canes after that Islanders loss. That was such a brutal way for them to start that game and they looked bad. In their home finale I think they'll turn it up especially for Bickell. Blues are hoping to lock in 3rd place in the Central and I can see this one being a good match-up.
Sabres/Panthers Over 5.5: There's a few key injuries, and these two have often had games that just go off. I'm going to back that here in a no pressure game that these two give the fans something to cheer for.
And then we have two.
$25 risk free bets on player prop, in-game bet and $50 risk free mobile bet. Available for NEW customers only at BetOnline.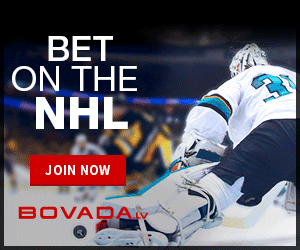 Leafs vs Penguins:
The Leafs haven't beat the Pens in regulation since 2013. Only 2 wins since that date to the Penguins 8 and they couldn't do it in regulation.
Leafs go into this off the back of two huge and demoralizing losses against the Capitals and the Lightning. The Capitals because it was a reminder of how far the Leafs have to go in terms of quality, and the Lightning for obvious reasons.
I think the Leafs do it tonight.
I have nothing to back that up. There's even word that Malkin could be back tonight for some limited action. Regardless, I just have a good feeling about the Leafs tonight. I've watched live around 80% of their games this season, and I think back to the way the Leafs have performed in a lot of the games and what they're capable of.
I'm betting Leafs to win(Not anymore – see edit below) – dependent on the odds. Not up yet but I'd say has to be at least 1.80. I'm not confident enough to go with regulation though. I'd also advise waiting till closer to game time to see the Islanders/Devils score. If the Devils are winning I probably won't bet the Leafs. I'll have to see how I feel.
10:32am Edit: Shortly after posting the tips, the odds came out. The Leafs are around 1.70 which is unbettable in my opinion.
If you're Canadian, I HIGHLY recommend signing up at Sports Interaction this very moment. You get a $20 free bet and take it to bet on the Penguins.
The reason is Sports Interaction is exclusively Canadian, so all Canadian teams get a lot of action. The Pens are 2.20 most places, 2.35 at Sports Interaction right now and that will probably go up during the day.
It's going to be some great value, so if you're Canadian sign up at Sports Interaction and use that free $20 bet on the Penguins.
Islanders vs Devils:
Islanders have to win in regulation. Simple as that. They're playing a team who they have beaten 11 times in the last 14 matchups between the two since January 2015.
I'm not feeling it.
I just get the feeling this is where the Islanders crash and burn, and pull them out of the race. The stats don't suggest it. The odds are bloody nice all things considered.
I won't be betting this one. However I think Islanders in regulation is +EV if you wanted to go with that.
Follow @BetNHL
BetNHL.ca » Tonights Tips »