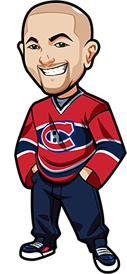 Written by Graeme on Friday, April 8th, 2022
Follow @BetNHL
No tips yesterday.
The Leafs got a hard fought win on the road in Dallas which was nice to see. Matthews was just incredible in that game. What a year he is having.
I've got a trip up to Toronto shortly here so just going to dive into all 5 games.
BTW most times even when we don't have betting tips, we'll still aim to send out an e-mail but sometimes we don't like yesterday. Long story short can only send e-mail from a site at one time and Vin was doing his opening day tips at Vin & Graeme's Betting Tips which took priority.
Then I wasn't home the rest of the day to send out the NHL one.
Right let's see – and just a note that I am hoping to have everything set up here on the weekend to do with this whole new Ontario igaming regulation mess. Monday at latest.
Lightning vs Bruins:
Tampa certainly not a team really worth backing at the moment. Boston are decent underdogs. Problem is their road performances lately don't give any sort of confidence.
Effort is something you also have to be worried about here. On paper, it has the potential to be a good high scoring game. The type of thing I'll maybe casually bet if I am watching it. But not one I can pull the trigger on.
Hurricanes vs Islanders:
Islanders are one of the rare teams I will be seeking out to bet on this month. They are certainly a tempting price but there has to be better spots to back them for the rest of the season.
These two actually haven't played since the season opener.
Islanders just lost to Dallas and have been pretty decent at bouncing back. Sorokin may be back tonight.
I'd like to back the Islanders here but it just feels too much of a gamble. If Sorokin is in then yeah maybe. But on the road in Carolina is not one I can advise.
Panthers vs Sabres:
Florida coming in off that amazing Toronto game. These two just combined for an 8 goal game. I'd like the over but the line is 7 here – so no thanks.
Blues vs Wild:
Blues come in on a tear at the moment while the Wild need to pick themselves up after that Predators game.
Coinflip odds and yeah I can't pick a team. I got quite interested in this one and looked into the advanced metrics more and it's so incredibly close right across the board. The only difference of course is in relation to goals etc. Wild have been that much tighter defensively.
If you're looking for a bet – the Blues have got a lot of high danger chances and the Wild can be quite stingy at giving them up. So maybe the Wild? Man this one is tight. Actually really curious to see how this game plays out.
Jets vs Avalanche:
Unfortunately I don't bet the Jets. I also mostly stay away from regulation teams on the road. I mean based on the way both teams are performing, Avs in regulation is the play for sure. But this is the type of game where the Jets just randomly show up.
Follow @BetNHL
BetNHL.ca » Tonights Tips »