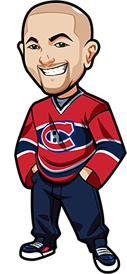 Written by Graeme on Tuesday, April 9th, 2013
Follow @BetNHL
We went 3-0 last night with the NHL Tips. We had Rangers to get the first powerplay and Toronto gave up a penalty nice and early. We also had the Bruins to score first and they did that after just 3:51 on the clock. On top of that they racked up a 6-2 victory over the Carolina Hurricanes, which made our "Home Teams -5" bet pretty much a lock.
Quite the night of hockey. Edmonton continue to crash while the Calgary Flames pick up a rare win on the road. Toronto continue to show they are the real deal with a huge fighting victory against the Rangers, with Kessel stepping it up.
For Tuesday, April 9th 2013 there are 9 games on board tonight.
Away Goals -1.5
We're betting Away Goals -1.5. This means that the road teams need to score at least 2 goals more than the home teams.
This bet is available at 5Dimes.
You need to register and log-in. Click "Straight & RIF", then underneath Hockey click "NHL". Scroll down and it's just above "NHL Hockey 1st Period". If you're having troubles finding it just do a CTRL+F for "Away Goals Today".
1.95 are the odds on this one. Look at the road teams we are backing though. Flyers, Penguins, Sharks, Capitals, Senators, Sabres, Blues, Blackhawks and the LA Kings. This is honestly a day where the away teams could get a complete sweep.
There are a few tricky ones like Sabres vs Jets, Flyers vs Islanders and Capitals vs the Habs, but in those games Philly have always been tricky opposition for the Islanders, and beat them here 7-0 last time they played. The Capitals are killing it at the moment, so are a solid choice against the Habs. And the Sabres are on a 3-game streak, and going into this one with confidence high.
Place this bet at 5Dimes.
Flyers vs Islanders Betting Tips: Over 5.5 Goals
In their previous two outings, there was 7 goals in each game. Flyers won 7-0 and lost 4-3. Flyers also have won 7 in a row in Long Island, and this is going to be a game with both teams chasing a playoff spot and not giving up. I can see it being an extremely open game. Gagne has started to put the puck in the net again, and both these teams leak goals like crazy.
You can get 1.85 odds at 5Dimes on the over 5.5.
Senators vs Lighting Betting Tips: Over 5.5 Goals
We're getting 1.952 odds at 5Dimes on over 5.5 for this one, which was quite a surprise. I had to look twice just to make sure I wasn't seeing things.
Whenever these two teams match-up, there's goals. It's just one of those things. In their previous games Tampa won 6-4 and lost 5-3. I went back and watched parts of those games this morning and it's just one of those things where two teams sync up well together and the goals come flying in. And now Tampa may be starting Ben Bishop.
I'm liking these teams to hit at least 6 goals and possibly more, so back this at 5Dimes.
Follow @BetNHL
BetNHL.ca » Tonights Tips »