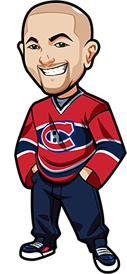 Written by Graeme on Thursday, April 9th, 2015
Follow @BetNHL
Whew – a lucky night in hockey, as we went 1-0 with the only betting tip despite my read of all 3 games being off.
We had the Under 5.5 goals in the Ducks vs Stars game. That came through – but not in the way I expected. I didn't expect a super intense game from the Ducks or anything but I expected them to win – and the only concern was the leaky goaltending of the Dallas Stars. The Stars won 4-0 to shut them out in a huge surprise.
Nice to have some luck on our side, going into the playoffs.
In the other games my reads of them couldn't be more wrong. I felt like Bruins wanted it more but it really didn't look like that at all. Very sad game to watch if you're a Bruins fan. And I really felt Leafs would either win or take the game to overtime, and the Jackets blew them out of the water. What's funny about that game is I was VERY close to tipping Over 5.5 goals. I would have been so pissed about that one if I had tipped that.
So a winning night, but a lucky night. Bear that in mind when it comes to todays tips – all 3 games last night, I read incorrectly. Could just be a bizarro night – but hurt my confidence slightly going into todays tips.
Flames vs Kings Betting Tips:
How the hell do we not bet the Flames here?
The two teams have had 4 tight games all season. Flames have won 3 of the 4.
They're going into this one at home. Yet they're the underdogs at 2.10 odds. They've played some solid hockey as of late, while the Kings potentially wrecked their playoff hopes against the bloody Edmonton Oilers. And now Flames are in control of their own destiny: win and make the playoffs. On fan appreciation night, in the last game at home in the regular season.
I just can't argue against betting the Flames tonight. They've proven time and time again that they belong in the playoffs. Tonight is the night they prove beyond any reasonable doubt.
Oilers vs Sharks Betting Tips:
These two teams have had 4 exciting and close games this season. The latter 3 all went over, with results of 5-2, 4-3 and 5-4. That last one was an Oilers win back in February.
At this stage of the season, it's really more about putting on an entertaining game for the fans with a couple of rookies in the mix. Brossoit is getting his first start for the Oilers in net. Also Curtis Hamilton and Bryan Lerg are playing and will be eager to impress.
Oilers offense have had mixed results lately, but they showed in that Colorado/Dallas/Colorado week that they could turn it on and showed again when they played the Kings. Sharks will want to win after their last two outings, and either way they are usually leaking in the goals when they're not scoring them.
Bet Over 5.5 goals at 1.90 odds.
Other Game Thoughts:
Those are the only two tips for tonight. A few other thoughts:
My main betting system loves the Flyers. From my own personal analysis I can't tip them – but it is all over Flyers -1.5 at 3.15 odds, so make of that what you will.
I don't think there is a more driven team than the Senators at the moment – after that amazing comeback against the Penguins. I'll be watching that game with my daughter tonight, and will be placing a bet on the Senators to win. 1.86 odds – I don't think it's +EV at all. I think this is a 50/50 game at best. But I think I just gotta back them there.
I THINK backing the Jets in regulation tonight at 2.00 odds has some tiny value. Just the way they have been playing. Colorado have the ability to upset them – and I'm not a big fan of the odds. But the Jets have looked bloody stellar on the road at the moment.
Enjoy this fun night of hockey.
GO FLAMES!
$25 risk free bets on player prop, in-game bet and $50 risk free mobile bet. Available for NEW customers only at BetOnline.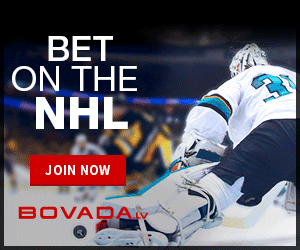 Follow @BetNHL
BetNHL.ca » Tonights Tips » April 9th, 2015 NHL Betting Tips