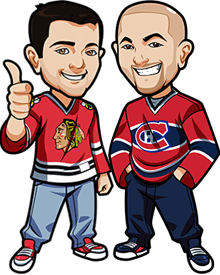 Written by Graeme & Scott on Saturday, April 9th, 2016
Follow @BetNHL
It was a 2-1 night on Thursday. Hopefully we can continue this fine form into the playoffs.
Our loss was the Leafs/Flyers game and that was actually a really interesting game in terms of sports psychology. We've got a bunch of articles lined up for the Summer and we're going to go into that game in-depth. The first 25 minutes of that game were enthralling to watch from a psychological aspect and it's an aspect that many people just don't ever really think about.
With 15 freaking NHL games today, we decided to do a rare "separate tips" for each game. See – when we do it separately we only spend about 10-15 minutes on each game. When we do them together though it can take up to an hour per game and yeah we just don't have that time to spare when a lot of the games are essentially meaningless.
So we both analyzed each game separately and then have combined the tips to cover every single game. Enjoy! Not sure if we will have any tips yet for Sunday nights games or not but if not don't worry we'll have playoff series prediction posts up soon. Meeting up tomorrow for beers and wings and to go through it all.
Due to how many games there are each game will have only a couple of sentences analysis from us:
Red Wings vs Rangers Betting Tips:
Graeme: It seems almost mindblowing to consider the NHL Playoffs without the Detroit Red Wings yet here they are. The potential results still favour them but they really need a win and the sportsbooks are expecting that with their odds. While they obviously have a lot more to play for – the odds to me means we have to bet on a Rangers win. Most likely a situation where everyone is betting on the Wings, bringing their price down.
Scott: A must win game for the Wings just like the Bruins.  This is tough to call.  I would take the Wings to win  because this team always seems to win when it counts.
Senators vs Bruins Betting Tips:
Graeme: Much like the Red Wings, the Bruins need the win. However I like the Bruins chances better against the Senators. Senators have been tricky opposition for the Bruins at times but I couldn't help but be impressed with Boston against Detroit, and will take Bruins in Regulation.
Scott: I have to think the Bruins win this game.  A win would make the Flyers path that much more difficult and would force them to win their final 2 games.
Canada: $20 free at Sports Interaction.
USA: 100% Bonus at GT Bets
Everyone Else: 50% Parlay Bonus and 100% matching deposit bonus at Bet365 (Americans: We recommend http://www.bovada.lv.
Penguins vs Flyers Betting Tips:
Graeme: Holy crap what a game this is! Philly can still get in the playoffs but they have a lot of holes in them, and like we said in the beginning – psychology is a big factor for them. I just don't think they have what it takes here mentally after that Leafs loss and love the Penguins odds. Penguins win.
Scott: Just like the above mentioned games, this is another must win game.  The Flyers have a game in hand over both the Bruins and the Wings.  I like this game to be Over 5.5
Ducks vs Avalanche Betting Tips:
Graeme: Ducks would like to win the Pacific so they have that to play for. However I like what I've seen from the Avs the last couple of games. Throwing caution to the wind and all that. I'm going to take Over 5 Goals.
Scott: The Ducks can jump ahead in the standings.  They have another game to play tomorrow so if all goes will they can jump from 5th to 3rd.  Ducks in regulation
Flames vs Wild Betting Tips:
Graeme: The Wild have had 4 huge losses and don't want to end the season on a losing note. The Flames have been a blast to watch lately with the whole no pressure thing making for some exciting games. I'll be hoping that continues with Over 5.5 Goals.
Scott: The Wild have nothing  to gain or lose in this game as theyre assured the final wildcard spot.  They should be resting a bunch of their players. Flames win
Hurricanes vs Panthers Betting Tips:
Graeme: You know what? I'm doing no analysis for this one. I've argued for and liked the Hurricanes so much this season that now I have the freedom to say what I want – Hurricanes to win! Suck it Scott.
Scott: Not much to say about this game. Have to go with the Panthers in regulation 
$25 risk free bets on player prop, in-game bet and $50 risk free mobile bet. Available for NEW customers only at BetOnline.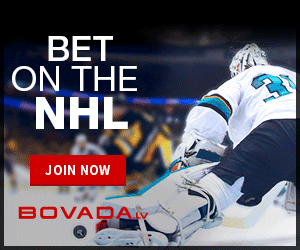 Blackhawks vs Blue Jackets Betting Tips:
Graeme: After 3 solid performances the Hawks stuttered against the Blues. I like a convincing win tonight for the Blackhawks though and will take Blackhawks to win. It's possible Crawford will start and that would be nice for them to get him a big W.
Scott: The Hawks should use this game to build momentum heading into the playoffs. Blackhawks in regulation 
Lightning vs Canadiens Betting Tips:
Graeme: I would like to think the Habs will aim to finish strong. They're going to battle all the way at least and I don't think this will be a defensive clinic. Over 5.5 Goals.
Canada: $20 free at Sports Interaction.
USA: 100% Bonus at GT Bets
Everyone Else: 50% Parlay Bonus and 100% matching deposit bonus at Bet365 (Americans: We recommend http://www.bovada.lv.
Scott: The Lightning can still move up in the standings. I like them to win in a dominating fashion. Lightning -1.5
Leafs vs Devils Betting Tips:
Graeme:While Leafs winning obviously benefits them – I liked the way they beat the Flyers. I also believe that having a tiny better chance of winning the draft over finishing strong is not something Babcock would prefer. I think Mike would rather make a strong statement of a strong finish and am taking Leafs to win.
Scott: The Leafs have had a bad year but this was expected thanks to their full on rebuild. With the a loss then the the Leafs would be last overall in the league and have the best odds of winning the 1st overall pick. Devils win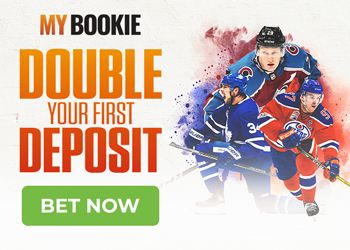 Sabres vs Islanders Betting Tips:
Graeme: Love the run the Islanders are on at the moment and I see them continuing that as they want to finish strong. These two usually have tight games but I'll take Islanders in regulation.
Scott: The Sabres had a decent run at the end of the year and the Isles themselves are 7-3 over their last 10. Over 5.5
Predators vs Stars Betting Tips:
Graeme: Holy crap why are there so many games today I just want to stop caring about hockey and go relax before the Grand National. I actually see this being a fairly tight one and I'm going to take Under 5.5 Goals.
Scott: Stars are holding off the Blues and could win  the Central with a win. Stars win
Capitals vs Blues Betting Tips:
Graeme: This just seems like one of those games where both teams will go off and Tarasenko will stand out and Ovi will have his own highlights. I'm taking Over 5 Goals.
Scott: Both have had strong years and should be a great game.  The Caps have nothing to lose and should be resting some players while teams Blues can move ahead of the Stars for first in the Central as long as the Stars lose.  Blues win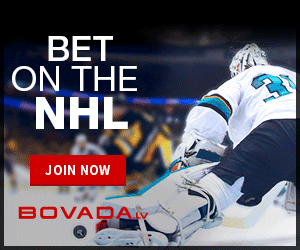 Oilers vs Canucks Betting Tips:
Graeme: Oilers season finished a couple of nights ago, their last game in the Rexall. They're already on the course. McDavid probably going to enter the Masters today and win it. Because he's just that good. Canucks to win.
Scott: Another game with nothing to lose for either team.  I like this to be a goal filled game. Over 5
Jets vs Kings Betting Tips:
Graeme: Kings will be hunting the Pacific and a win here will do that for them. They've got back on the winning track with two nice wins although tight. I'm not 100% convinced by the Kings – their play the last few games hasn't impressed me – but I think they may be able to give it their all tonight. Kings to win in regulation.
Scott: This would seem like a Kings win but they have been evenly matched over the last 10 games. I id take this one Over 5
Coyotes vs Sharks Betting Tips:
Graeme: The media kills me – talking a lot about how the Sharks have lost all motivation. What? Have they lost their last 5 games or something? I'll take Sharks for a big win tonight. Sharks -1.5.
Scott: Sharks have nothing to gain or lose in this one and they should be resting some players for the playoffs Coyotes win
Canada: $20 free at Sports Interaction.
USA: 100% Bonus at GT Bets
Everyone Else: 50% Parlay Bonus and 100% matching deposit bonus at Bet365 (Americans: We recommend http://www.bovada.lv.
15 games individually picked and we didn't agree on even one lol. Closest we came was Bruins/Hawks win but one chose regulation, one didn't. Now you see how hard it can be doing the tips sometimes!
Enjoy the hockey today people and thanks for visiting us all throughout the season!
Follow @BetNHL
BetNHL.ca » Tonights Tips »