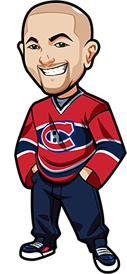 Written by Graeme on Friday, April 9th, 2021
Follow @BetNHL
The Islanders got the win last night. Alas it wasn't in regulation.
It was the night of the road teams with 7 road teams winning. Most of them were expected to win though so wasn't a big surprise of a night.
For Friday, April 9th we've got 7 games on the board.
Let's look through each and every one of them and see what we got. Prior to that a quick RIP DMX – so many memories of just life in general while DMX was blasting in the background. A true artist.
Let's get to it:
Devils vs Penguins:
My own personal system – which I use more for record tracking than anything else this season – thinks this will be a high scoring game. Could see it I guess considering the form of both teams coming into it.
Alas both teams are on a back to back and it's not like we have seen high scoring games between the two recently so that's out. Pens in reg I don't love because I don't trust them much on the road – but I don't trust the Devils period. I don't hate the Devils here – I like the way they played in the third period against the Sabres – but not worth betting.
Islanders vs Rangers:
Two more teams on B2Bs. Rangers off that Penguins loss at home. Islanders off that tight win over the Flyers.
Islanders decent favourites here. These two haven't played too much this season. Islanders have a 2-1 record over them. Weird games between them with the Islanders 4-0 then Rangers 5-0 2 nights later.
Can't really bet against the Islanders in this spot. What if we take them? Incredible home team. Flyers generally just seem to be a tough match for them. But man their form over the past month is a bit iffy. They haven't played too many back to backs but do have a couple of solid results in there.
I'd prefer 1.80 on the Islanders. Best we can get is 1.77 The new guys should have settled in and I think we can just go with it.
Islanders win incl OT/SO
Canada: 1.77 Odds at BetOnline..
USA: -129 Odds at BetOnline..
Everyone Else: 1.77 Odds at BetOnline..
(Odds correct as of 2021/04/09 3:24:50 PM EST but are subject to change.)
Sharks vs Kings:
Sharks got thrashed by the Ducks last time out. Prior to that they beat LA Twice. Actually they have had LA's number this season for the most part winning 5 of the 6 games.
Couture might not be in which is a big deal. Gotta bet it based on that.
Sharks win if Couture is playing incl OT/SO
Canada: 1.76 Odds at Sports Interaction (SIA) + free $20 bet.
USA: -131 Odds at BetOnline..
Everyone Else: 1.76 Odds at BetOnline..
(Odds correct as of 2021/04/09 3:24:50 PM EST but are subject to change.)
Sabres vs Capitals:
Would have to take Caps -1.5. When you look at both teams results in the last week that would be silly as all hell. Sabres going with Tokarski in net. Nothing here.
Blues vs Wild:
Wild are one of those teams I just feel iffy about. They're average on the road. They can pull out the big win sometimes. They're honestly quite a good price tonight. However looking back at the last game between the two – although Wild got the win – Blues were damn good in that one and that's scary.
No bet for me here.
Knights vs Coyotes:
Just don't feel great about backing the Knights right now. They're certainly solid on the bounce back though.
Ducks vs Avalanche:
You gotta think Avs bounce back strong here. However -1.5 is a ludicrously low price considering they haven't even covered that in their last 4 games. I see the reasoning for it but not one I can back.
Follow @BetNHL
BetNHL.ca » Tonights Tips »