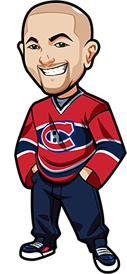 Written by Graeme on Saturday, April 9th, 2022
Follow @BetNHL
No tips yesterday and I feel good about that. Bruins vs Lightning was not the high scoring game many expected and only had the 2 goals in regulation. Panthers vs Sabres was barely a push.
The Islanders did manage to get the W in Carolina which was very impressive. Not too many shots in that one. Blues vs Wild was the tight one the bookies expected, and the Jets pulled off magic Jets tricks albeit came up short.
How about that Blue Jays home opener? What a comeback that was. Epic result. I was up in Toronto too at the time and was debating going to it rather than coming home. Really wish I had now.
Looking forward to the Masters today. Hopefully Scottie falters a bit just to give us a lot of players in contention tomorrow.
Let's get onto todays packed NHL Schedule:
Stars vs Devils:
I'd think Dallas would get the win here but it would have to be -1.5 and I believe they have covered that in just 1 in 15 games. Stars also have one of the worst playing against an empty net record in the league, so no bet there. If anything, Devils +1.5 seems more appealing. It wouldn't surprise me if Stars are up by 1 and Devils tie it up late to go to OT so I may look to live bet that situation if it happens.
Penguins vs Capitals:
I mean you can't really bet any team with much confidence right now. I'd like to hope there are goals but over 6.5 is a tad rich for this one. No bet, easy to avoid.
Predators vs Panthers:
I don't bet Preds games. I still look at them though and yeah nothing here I would advise.
Rangers vs Senators:
Rangers are heavy favourites but the -1.5 is playable. They've covered that their last two. Problem is they have been stuttering a fair bit lately. Ottawa had a nice little run before losing to Nashville.
The Rangers are practically in the playoffs and will cement it here if they get the victory. They had a good performance against Pittsburgh.
Sens are pretty poor when playing with an empty net while the Rangers are average playing against.
Games like this are tricky at this point in the season to back and here is why; we've had a week of very few tips. As much as we want to be responsible in regard to what we advise, we almost feel an obligation to back something.
So looking at this one I start leaning towards Rangers -1.5 but then I am questioning that. Am I doing that only because I feel the need to have a tip? So then it's a whole other series of questions.
I've went back and forth here. Looking at the advanced metrics for both teams on their last 10 wasn't too impressive for example – Sens with a better CF 5 on 5, FF is similar. Everything is very tight.
But my gut says we see another professional performance from the Rangers, and they get the solid win here to cement their playoff place.
Yeah I just can't pull the trigger on this one. Feels like I am forcing it.
Leafs vs Canadiens:
No surprise the line is set at 7 on this one. I think Leafs will be a lot more motivated to win this one due to the result last time these two played. Plus the way Matthews is playing right now.
7 is way too high for me to advise but I could see it.
Kraken vs Flames:
No bet here. Odds are not great would have to do Flames -1.5 on the road. Nopers.
Red Wings vs Blue Jackets:
Jackets are a dog I generally like but I've said before the Red Wings are actually quite good at home.
Detroit are a very risky team to bet on of course. We saw these two play in November and it was a 5-3 win for Columbus.
The Jackets are struggling big time now and their playoff hopes are basically gone.
Jackets have shown a lot of fight and have played some tough teams down the stretch. Detroit is generally easier than most but man that Flyers result at home was shocking.
Yeah I like Red Wings incl OT/SO. 1.86 odds at most places.
Flyers vs Ducks:
Ooof no.
Blues vs Islanders:
When you watch a lot of hockey you just get a feeling for a lot of games. This is one where after the Islanders beat the Canes, I look at it and get the feeling they get wiped out here.
But I was hesitant to take the Islanders last night and they proved me wrong so I don't wish to back against them here.
Canucks vs Sharks:
Canucks come in off a couple of big road wins. Sharks come in playing rather poor. But man – I just cannot back the Canucks here when you look at their home performances at the moment. I do hope they keep the playoff race on with a win here though.
Oilers vs Avalanche:
Oilers come in on a nice winning run but a lot of tight ones on that list. Great home run of course they will be fighting hard here to keep it going.
Odds seem pretty on the money here.
Knights vs Coyotes:
Nothing for this one.
Follow @BetNHL
BetNHL.ca » Tonights Tips »