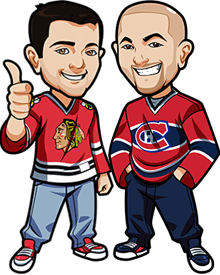 Written by Graeme & Scott on Monday, August 17th, 2020
Follow @BetNHL
There may just be life in those Chicago Blackhawks yet!
The Vegas Knights were stunned by the Blackhawks and this graphic pretty much sums it up: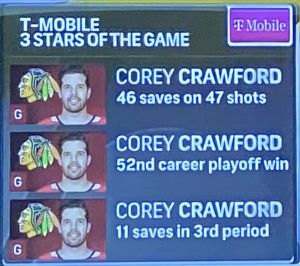 Big props to Corey Crawford. It's always something cool when a goalie is the key reason you win a game. Dude did amazing and really stepped up to the plate.
The Islanders lead 3-0 in their series after a big 2-1 win over the Caps in OT. Washington are now on the verge of elimination. The Stars/Flames continue to trade wins as that series is now tied up 2-2.
Flyers and Habs returned to the quiet affairs with Philly winning 1-0, and the Blues pulled off the surprise win – missing some players – over the Canucks in OT.
Another busy day in the NHL with 4 games on the go. Let's get right into it:
Lightning vs Blue Jackets Betting Tips:
Graeme: So first of all after winning yesterdays 2 props of Gallagher Under 3.5 goals, and the Flames/Stars Highest Scoring Period prop, I'm going to try and focus more on prop bets.
Honestly during the playoffs it's a lot more fun for me. Not saying I will do it all the time but if I see a trend and feel the value is there, I'll go for it. It's a lot better than trying to recite reasons as to why we should bet the Blue Jackets yet again due to the value.
BTW you should. Bet the Jackets that is. It's still stupid high value all things considered. And actually that's what I am going to go with for this one as there's nothing to suggest this is an -EV bet. On top of that every time Jackets have lost so far in the playoffs they've bounced back. Kind of surprising that considering they were pretty meh on the bounce back in the regular season.
Anyway Blue Jackets incl OT/SO if Korp is in net.
Scott: The Lightning managed to keep the Jackets to only 17 shots to pick up the 3-2 win in game 3 and lead the series 2-1. It's a bit concerning though that only 17 shots and the Jackets scored twice.
This is a tough one to call. The Jackets seem to give the Lightning such issues which makes this tricky to call.
The odds for a Jackets win including overtime are decent enough that I'll take them. If the Lightning build off of their win in game 3 and put 2 togther then so be it.
Jackets win incl OT
Canada: 2.40 Odds at GT Bets..
USA: +140 Odds at GT Bets..
Everyone Else: 2.40 Odds at GT Bets..
(Odds correct as of 2020/08/17 7:08:36 AM EST but are subject to change.)
Avalanche vs Coyotes Betting Tips:
Graeme: Okay this is one where I will 100% go for a prop bet for. Coyotes are a hell of a price but I just struggle to advise them even at that price. Pretty simple one this one – I'm going for Highest Scoring Period = 3rd. In all Coyotes games (including the Preds) that's clocked in as highest scoring period a good amount of time.
The way this one is set up we could see a lot of desperation plays in the 3rd too. I should note this is in contrast to yesterdays pick reasoning – the regular season stats don't back this up at all. Both in the regular season have had quite quiet affairs in the 3rd.
Canada: 3.25 Odds at Bovada.
Everyone Else: 3.00 Odds at Bet365 (Americans: We recommend http://www.bovada.lv.
(Odds correct as of 2020/08/17 7:08:36 AM EST but are subject to change.)
Scott: The Coyotes picked up a huge win in game three and now trail 2-1. Darcy Kuemper was amazing making 49 saves.
It's a game and performance like that that could give the Coyotes a shove and get them back in the series. But it could also give the Avalanche a shot in the arm and they could have a big game knowing that the Coyotes are capable of beating them.
I think the Avalanche find a way to pick up the win in this game.
Avalanche win in regulation
Canada: 1.84 Odds at 888 Sports.
USA: -125 Odds at Bovada.
Everyone Else: 1.84 Odds at 888 Sports.
(Odds correct as of 2020/08/17 7:08:36 AM EST but are subject to change.)
Bruins vs Hurricanes Betting Tips:
Graeme: The Bruins bounced back solid with Halak in net and are favourites in this one. It's tough because I love the Hurricanes and what they do however I remember that sweep last year. That goalie change might just be what the Bruins need.
Actually looking into it Halak has never lost against the Hurricanes while as a Bruins goalie. Closest he came was the 4-3 OT win for the Bruins in March 2019.
No clue if Pastrnak is playing yet. This one is too tough for me. I can't escape Halaks performances against the Hurricanes however I'm not sure if that Bruins win was just a one game deal or not. It's too marginal for me at the price but if I had to take a bet, I'd go with Bruins. Just feel the value isn't there but I was able to scrape up 1.80 odds which I feel okay about if you want to bet it.
Scott: Well the Bruins have to deal with the fact that Rask has left the team to be with his family. The team is in good hands as Halak is a great goalie and he made 29 saves for the win.
It's sometimes works for a team when a player leaves for an injury or personal reasons as they seem to come together. I think the Bruins will do just that for this game and show that it wasn't just a fluke that they won without Rask.
Bruins win incl OT
Canada: 1.80 Odds at BetOnline..
USA: -125 Odds at BetOnline..
Everyone Else: 1.80 Odds at BetOnline..
(Odds correct as of 2020/08/17 7:08:36 AM EST but are subject to change.)
Blues vs Canucks Betting Tips:
Graeme: Blues showed some real grit in that last game to win despite the late scratches. Big performance from them and it was nice to see. They really needed that.
I think Blues will look to carry that momentum, and Canucks meanwhile will want to be more potent offensively and also look to swing things their way. I'm going to go with Over 5.5 Goals.
Due to time constraints, no pick from Scott on the Blues/Canucks game.
Not many books have this line. Probably waiting to see the status of the Blues players etc. It's 2.05 at Bet365 (Americans: We recommend http://www.bovada.lv.. Honestly I'd probably bet it regardless but best to wait on that one and see news, lines etc. I'll try and keep an eye on it during the day and post thoughts in comments if anything jumps out that requires changing that.
(Odds correct as of 2020/08/17 7:08:36 AM EST but are subject to change.)
Follow @BetNHL
BetNHL.ca » Tonights Tips »