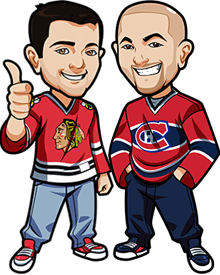 Written by Graeme & Scott on Friday, August 21st, 2020
Follow @BetNHL
It was quite the day of hockey yesterday. After fighting back in Game 4 to potentially make the series interesting, the Caps absolutely fizzled out with a dismal performance in Game 5.
Really sucks as with the Capitals comeback abilities over the years, that would have been quite a fun series if they were up for it.
Then there was that Dallas Stars vs Flames game. Holy moley. That Dallas offense just stepped up big and crushed the Flames. They won 7-3, win the series 4-2, and progress.
So today we have two Game 6's on the board. Flyers vs Habs, Blues vs Canucks. Schedule wise if either game goes to a Game 7, they will be held on Sunday it looks like.
Let's see what we got for these crucial games:
Flyers vs Canadiens Betting Tips:
Graeme: It was a super fun game last time out with the Habs winning 5-3 in a goal fest. Interestingly despite the Habs win, this is the first time by the analytics that they DIDN'T deserve to win with the Flyers at about 58%. The Habs will feel good that they were able to get by Hart.
Habs are about 2.15-2.20 odds to win so if you feel this is a coinflip this is a good bet. Thing is I really don't. I think on the ice, the Habs are the slightly better team or at least can be. However I still believe goalies are a big factor there. I have more confidence that the Flyers can get by Price than I do the Canadiens can get by Hart.
Personally I think Flyers take this one. Their offense woke up in the last game and I think Hart does the business for them this game. However you've got to think the Habs are going to come in fired up on this one too after the Gallagher injury. That was brutal and with the emotion the Habs will bring that may change things.
Good chance of this being a physical game and lots of penalties so I'll go with Over 5 Goals incl OT.
Scott:Well after the end of last game and the way that the shit hit the fan, I expect this game to be a good one.
The Canadiens realize that they can beat the Flyers after losing two straight and the Flyers can't afford to take another loss which would force a game 7.
The Over/Under for this game is 5. Only the last game, when the Habs won 5-3, has gone past the 5 goal mark. But with all of the emotions that happened in game 5 I expect this to be a game full of action and might be the best game of the series.
Over 5 including OT
Canada: 2.05 Odds at BetOnline..
USA: +105 Odds at BetOnline..
Everyone Else: 2.05 Odds at BetOnline..
(Odds correct as of 2020/08/21 10:57:15 AM EST but are subject to change.)
Blues vs Canucks Betting Tips:
Graeme: This is such a fun series and I'm glad Canucks were able to pull it back and take the lead in the series. Blues have the experience of course so with backs against the wall this is a big game for them.
They were in this spot last year against the Stars and came out strong. Similar with the Sharks. And when they needed to do it against Boston they did the job.
I'm going to go for a hella risky play here of Blues -1.5. I see value on that line and often all it takes is an empty net. Canucks should pull their goalie early if they are down. Markstrom was also a big reason as to why the Canucks won the last game. If he steps up again then nothing you can do but the Blues seem like a team motivated. He's on a roll right now and has saved 4 clear goals by the xG maps. However the Blues have been able to get past him and I see that continuing.
I weighed this one up with Blues in regulation but decided I like the handicap value more. I should note I do think there is also value in the Canucks line as well. I just feel if the Blues win they can cover this.
Canada: 2.97 Odds at BetOnline..
USA: +195 Odds at BetOnline...
Everyone Else: 2.97 Odds at BetOnline..
(Odds correct as of 2020/08/21 10:57:15 AM EST but are subject to change.)
Scott: Again the Canucks are the underdog. The Blues have the experience going for them and they are going to need that to get past the Canucks. They don't give up and Markstrom has been amazing.
It's going to be hard for the Blues in this game as the young Canucks just keep coming. With the momentum they gained in their most recent come from behind victory, I like the Canucks to pick up the win here and move onto the next round.
Canucks win incl OT
Canada: 2.20 Odds at BetOnline..
USA: +120 Odds at BetOnline..
Everyone Else: 2.20 Odds at BetOnline..
(Odds correct as of 2020/08/21 10:57:15 AM EST but are subject to change.)
Follow @BetNHL
BetNHL.ca » Tonights Tips »