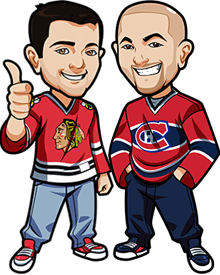 Written by Graeme & Scott on Sunday, August 23rd, 2020
Follow @BetNHL
The next round of the playoffs started yesterday, and it was an absolute banger of a match.
The Dallas Stars ran out 5-3 winners in a big one. It was a hell of a game and the Avs had some additional bad news as Grubauer picked up an injury and had to leave the game.
Betting wise it was good with Graemes 2.50 bet on the Stars to win coming in, and Scotts 2.15 pick on the over coming in.
The best news for us is that we have a more reasonable schedule going forward. The majority of days have just two games which is nice as it's easier to look through and analyze each game.
Don't get us wrong – we're going to miss all day hockey of course. However from a betting tips perspective it will be a bit less work which is nice.
Let's get right into todays games:
Bruins vs Lightning Betting Tips:
October 17th: Bruins 3-4 Lightning (SO)
December 12th: Lightning 3-2 Bruins
March 3rd: Lightning 1-2 Bruins
March 7th: Bruins 3-5 Lightning
Graeme: Tampa overcame a tough Blue Jackets team in impressive fashion with a 4-1 series win. The Bruins also overcame the Hurricanes 4-1. When you look back at it that was two extremely impressive victories against tough teams.
These two faced off in 2018. Bruins won the first game 6-2 then Tampa ended up winning the series 4-1 in a gentleman's sweep.
I'll be honest. I have zero idea on this series and these games. If I was to pick a series winner I'd go with Tampa. Overcoming the Blue Jackets was a big mental win for them and I think they will be the best team over 7 games. On a game to game basis? I have no idea and I am probably just going to stick with prop bets for every game.
I'm going to go with Victor Hedman Under 2.5 Shots for this one. Hedman has had a fair amount of shots in the playoffs but he generally records a good amount during the regular season too. That was NOT the case with the Bruins. In the 4 matches he really only played 3 full games and shot 2, 1 and 1.
Canada: 1.68 Odds at 888 Sports.
USA: No odds but Bovada and BetOnline. often have player props
Everyone Else: 1.68 Odds at 888 Sports.
(Odds correct as of 2020/08/23 8:58:39 AM EST but are subject to change.)
Scott: Now that the Lightning have finally gotten by the Jackets they should be flying in to this series. But the Bruins are a deep and experienced team so they could give the Lightning troubles.
But getting past the Jackets was a huge hurdle for the Lightning and now they can focus on playing the offensive hockey they are known for.
With the Bruins rallying behind Halak this series could go either way.
With game 1 I'm going to go with the Lightning as last year should have been their year but they got swept, this time around they get a sort of do-over.
Lightning win incl OT
Canada: 1.96 Odds at BetOnline..
USA: -105 Odds at BetOnline..
Everyone Else: 1.96 Odds at BetOnline..
(Odds correct as of 2020/08/23 8:58:39 AM EST but are subject to change.)
Canucks vs Knights Betting Tips:
December 15th: Knights 6-3 Canucks
December 19th: Canucks 5-4 Knights (OT)
Graeme: No need for me to write too much here. The strategy of beating the Knights is basically they're gonna score a bunch so you need to outscore them or go back in time and get a prime Patrick Roy in your net like the Blackhawks did in Game 3.
Canucks had to employ a similar strategy against the Blues and it was what one them those last two games. Their offense comes in confident, have beaten the Knights before and put the goals up against them and I'm quite happy with Over 5.5 Goals.
Canada: 1.90 Odds at BetOnline..
USA: -110 Odds at BetOnline..
Everyone Else: 1.90 Odds at BetOnline..
(Odds correct as of 2020/08/23 8:58:39 AM EST but are subject to change.)
Scott: This is gonna be a great series between two fast teams.
The Canucks upset the defending Stanley Cup Champs in 6 games and showed that they are a team to be taken seriously. The Knights eliminated the Blackhawks in 5 games. When comparing the two teams the Canucks took out a much better team to reach the 2nd round.
The Knights are such a deep team who has more experience so I'll go with them for the first game but I also liked the Blues in round one and the Canucks made me look stupid.
Knights win in regulation
Canada: 1.89 Odds at 888 Sports.
USA: -125 Odds at Bovada.
Everyone Else: 1.89 Odds at 888 Sports.
(Odds correct as of 2020/08/23 8:58:39 AM EST but are subject to change.)
Follow @BetNHL
BetNHL.ca » Tonights Tips »