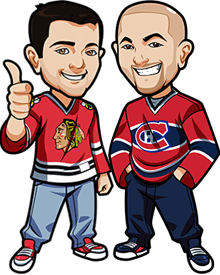 Written by Graeme & Scott on Saturday, August 29th, 2020
After a couple of days off due to their strike/boycott, the NHL is back with three games taking place today.
Honestly from a betting perspective, it may be wise to take the day off. Or at least skip the early game. You don't know where these players will be mentality wise etc. It could be a case of things starting slow then business as usual.
We already wrote up tips on the 27th for the Flyers vs Islanders game and Knights vs Canucks game. Not sure if anything much has changed from those thoughts. It's a bit weird trying to revisit games we have already tipped. So we're just going to copy/paste what we wrote and update the odds.
Only unique content is the Lightning vs Bruins game. We're going to go into this with the assumption that nothing will be affected and it's business as usual, because trying to figure out if it will affect anything is too tough.
As for everything going on – let's just hope it is not just optics and the NHL players, made up primarily of Canadians, look closer to home to attempt to implement some real change. The racism towards indigenous players and teams – particular in the minor and school leagues – is rampant yet swept under the rug constantly.
If you'd like to read more about issues in Canada, CBC did a 4 part series on it a year ago which is honestly just the tip of the iceberg.
Lightning vs Bruins Betting Tips:
Graeme: The Bruins got absolutely crushed against Tampa 7-1. You've got to think they are hurting and riled up and ready to go.
Halak has actually been underperforming and I don't know if defence can do the job for the Bruins.
I'm fine backing the over and hopefully these teams put on a good performance. Over 5.5 incl OT/SO
Canada: 1.90 Odds at GT Bets.
USA: -110 Odds at GT Bets.
Everyone Else: 1.90 Odds at GT Bets.
(Odds correct as of 2020/08/29 10:48:35 AM EST but are subject to change.)
Scott: So the Lightning got their offense going when they pounded the Bruins 7-1 in game 3. They scored 3 unanswered and then 4 and chased Halak out of the game after 4 goals. The Bruins will be ready for game 4 and will get back to what they do best and thats play strong defensive hockey.
But now that the Lightning found that extra gear will that continue into the next game? Its tough to say but having Halak pulled from the game and then scoring 3 more on backup goalie Dan Vladar is going to give them confidence.
The Bruins were the top team in the shortened regular season so I expect them to have a strong bounce back game here.
Bruins win incl OT
Canada: 1.95 Odds at Sports Interaction (SIA) + free $20 bet.
USA: -105 Odds at 5Dimes.
Everyone Else: 1.95 Odds at 5Dimes.
(Odds correct as of 2020/08/29 10:48:35 AM EST but are subject to change.)
Flyers vs Islanders Betting Tips:
Graeme: From a betting perspective I am starting to hate this series. I mean yesterday you had Varlamov going in on the back of a couple of sick performances and you had Hart who I thought if the Flyers would win it'd be based on him. Yet that wasn't the case at all as they brought a 7 goal thriller to the mix.
Personally I think the Islanders win however honestly there is no value there. It truly is a coinflip it seems so that's essentially what you're doing – betting on a coinflip. Even the over/under. Line is set at 5 but even though they had a 7 goal thriller yesterday it's just as likely they have a 2-1 game today. That sort of thinking also affects all prop bets as you never know what to expect.
I think for today I am going to go with the Islanders. They bounced back from losses to the Capitals and Panthers and that's a good sign. I respect the shit outta Trotz and think he is one of the better coaches and will make the necessary adjustments. After three games hopefully I can spot some trends and do some prop bets instead. Like I said though I feel like I am literally betting a coin flip here and getting slightly worse odds.
Islanders to win incl OT
Canada: 1.91 Odds at BetOnline.
USA: -109 Odds at BetOnline.
Everyone Else: 1.91 Odds at BetOnline.
(Odds correct as of 2020/08/29 10:48:35 AM EST but are subject to change.)
Scott: Well Varlamov had his shutout streak ended. Hayes scored twice, the first just under 2 minutes in, to open the game. The Flyers were up 3-0 after the 1st but the Isles clawled their way back into the game scoring 3 in a row to tie it up. Early in overtime the Flyers scored to pick up the 4-3 OT win.
Now that the Flyers have a win and were able to put 3 past Varlamov and chase him from the game, I have to think the momentum gained from that OT victory will carry them to a win in this game.
Flyers win incl OT
Canada: 2.02 Odds at 5Dimes.
USA: +102 Odds at 5Dimes.
Everyone Else: 2.02 Odds at 5Dimes.
(Odds correct as of 2020/08/29 10:48:35 AM EST but are subject to change.)
Knights vs Canucks Betting Tips:
Graeme: I couldn't talk myself into taking the Canucks last time despite that high value. However I was able to go with the over and won that with my thinking that the Canucks would at least be competitive.
You've got two teams who have scored 5 goals in each game. No surprise the line has moved to 6. The Knights had some quality shots against the Canucks in the last game and were unlucky honestly. Variance will see those goals come in more. In saying that Markstrom has been a real difference maker for the Canucks even if he isn't spoken about as much.
A quick look at the playoffs this year suggests that when teams are split 1-1, Game 3 is a much tighter affair. It's not set in stone but it's a trend that makes sense. Both teams have a W and are more conservative.
I absolutely LOVE betting unders here because they usually get blown out of the water. I still remember one a few years back where I took the under 5.5 based on a wide variety of reasons. And I even said "This might be my only under bet of the season if it gets blown away" and it ended up being like a 12 goal thriller. Always fun to get humiliated like that. So let's go with it again:
Under 6 Goals incl OT
Canada: 2.04 Odds at BetOnline..
USA: +104 Odds at BetOnline..
Everyone Else: 2.04 Odds at BetOnline.
(Odds correct as of 2020/08/29 10:48:35 AM EST but are subject to change.)
Based on my history of betting unders, expect there to be an 8 goal 1st period.
Scott: Well the Canucks responded big time in game 2. They scored the first two goals, Markstrom made 40 saves and the Canucks won 5-2. The Knights showed their frustration towards the end of the game as Pacioretty and Tuch took some unnecessary roughing penalties.
The last game is what I expected from these teams; fast hockey with back and forth action.
I think the Knights bounce back in game 3. When two of their leaders take roughing calls, I'm sure it was a tense dressing room after the game and the team will respond.
Knights win in regulation
Canada: 1.84 Odds at Sports Interaction (SIA) + free $20 bet.
USA: -135 Odds at Bovada.
Everyone Else: 1.84 Odds at 888 Sports..
(Odds correct as of 2020/08/29 10:48:35 AM EST but are subject to change.)
Best America Sportsbooks for NHL
BetNHL.ca » Tonights Tips » August 29th, 2020 NHL Betting Tips