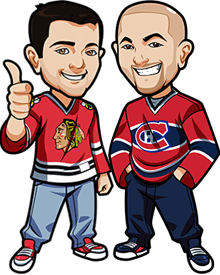 Written by Graeme & Scott on Saturday, August 1st, 2020
Follow @BetNHL
August 2nd, 2020 will see another five games take place. We will see two round robin game as the Flyers take on the Bruins and the Blues take on the Avalanche.
At this time, we have decided not to tackle the round robin games. We'd rather wait and see the level of play in those first and how the teams treat them.
Plus hey the playoffs are a bit of a crapshoot as it is so we may as well minimize the gamble. Feel free to share your thoughts on the round robin games though.
With hockey kicking off at about 12pm EST each day our aim is to try and get tips up the day before. It's not ideal from a betting perspective but we'll see how it goes. We can do situational bets if necessary such as "only take the Oilers if Mike Smith has been kicked out of the bubble" etc.
With that let's cover the three qualifer games taking place:
(All odds listed are the best odds available for that particular bet. All odds correct as of 2020/08/01 5:42:39 PM EST but are subject to change.)
Coyotes vs Predators Game 1 Tips:
October 17th: Coyotes 5-2 Predators
December 23rd: Predators 3-2 Coyotes
Preds beat the Stars 2-0 and Coyotes got thumped 4-1 by the Knights in the opening games.
Graeme: For all the new visitors you should know I have a horrible record when it comes to betting anything involving the Preds. They have lost me enough bets – whether I bet for or against them – that I've actually sworn off betting them. Alas for the sake of covering every game I'll take the risk.
Preds ended up 4th in the Central while Coyotes were 5th in the Pacific. Preds in the advanced metrics had really regressed this season however Arvidsson performing well could be a great sign for them. Coyotes are one of those teams I feel will be more reliably offensively at least on the top line. However Preds have more depth.
Coyotes I like the goalies more. I'm writing this before all the games have wrapped up in Game 1 however we saw goalies be a bit of a factor both positively and negatively and that could be telling.
Out of all the Game 1s, this is one where I am highly conflicted. I feel like the Coyotes as underdogs are a good bet but I also think the Predators will carry the momentum on from their exhibition win.
The more I think about it I really wasn't impressed with the Coyotes and the way they played in the exhibition game. They just mentally didn't look there. I'll go with Preds incl OT/SO.
Canada: 1.79 Odds at BetOnline..
USA: -126 Odds at BetOnline..
Everyone Else: 1.79 Odds at BetOnline..
Scott: The Predators are the favorites to win the series.
The Coyotes have plenty of young stars that could make this a good series. The Preds, as always, are a great defensive group. It's going to be a good series and I can see it going the full 5 games.
The Predators have some questions in nets for the first time in ages. Rinne had a rough year starting 36 games having a 3.17 GAA and a save percentage of .895.
With the players being off for months and his stats during the regular season I will need to see how well Rinne plays before I have any faith in the Preds. I'll go Coyotes for the first game.
Coyotes win incl OT/SO
Canada: 2.20 Odds at Sports Interaction (SIA) + free $20 bet.
USA: Odds at +113 at GT Bets..
Everyone Else: 2.16 Odds at 888 Sports.
Blue Jackets vs Leafs Game 1 Tips:
October 4th: Blue Jackets 1-4 Maple Leafs
October 21st: Maple Leafs 3-4 Blue Jackets (OT)
In pre-season the Blue Jackets beat the Bruins 4-1 and the Leafs beat the Habs 4-2.
Graeme: The Leafs vs Habs game was a fun one. Mikheyev could be big for the Leafs. Reilly looked solid too. Blue Jackets were battlers all season long and I like what Torts has did for that team. They have excellent defence. However that didn't matter in the two games against the Leafs this season.
I think one thing the Leafs will be able to do is bring the heat goalscoring wise and it's a case of whether the Jackets can keep up with them or not.
I think we're going to see a frantic start in this one. Leafs especially will be hyped up and I'm going with 1st Period Over 1.5 Goals.
Canada: 1.77 Odds at 888 Sports.
USA: No odds yet but can bet this at BetOnline..
Everyone Else: 1.77 Odds at 888 Sports.
Scott: Possibly the series that will be the most viewed of the opening round.
Both teams finished with 81 points in the shortened regular season.
The Jackets are going to get Seth Jones back after he missed the final 14 games of the regular season and without him the Jackets won only 3 of the 14 games.
Offense vs Defense here and I always like an offensive team to come away winners. The Leafs are stacked on offense. In the opening round after having months off its going to be sloppy hockey so I'll back the Leafs in the first game.
Leafs win incl OT/SO
Canada: 1.67 Odds at BetOnline..
USA: -148 Odds at BetOnline..
Everyone Else: 1.67 Odds at BetOnline..
Wild vs Canucks Game 1 Tips:
January 12th: Wild 1-4 Canucks
February 6th: Wild 4-2 Canucks
Februray 19th: Canucks 3-4 Wild (OT)
in exhibition games Wild lost to the Avs 3-2 and the Canucks lost to the Jets 4-1.
Graeme: This has the potential to be a super fun series. I like the way the Wild play where they play more defensively and look to capitalize on opposition mistakes. The youngers in the Canucks will no doubt make quite a few mistakes too especially considering the unique circumstances.
I don't have time to really go into it but I wasn't too sure about picking a winner in this one and I dived into the period by period stats instead. I am going to take Period 3 to be the highest scoring period. Should specifiy if it is a push with another period it is marked as a loss.
Canada: 3.25 Odds at Bovada.
Everyone Else: 3.00 Odds at Bet365 (Americans: We recommend http://www.bovada.lv.
Scott: This series is veterans vs youngsters.
The Wild are an aging team team who's best players are past their prime. Ryan Suter is a beast and capable of playing over half of the game each night.
The Canucks are deep at every position. Most of this team is in, or entering, their primes. Quinn Hughes is incredible and Jacob Markstrom had the best season of his career.
For this series I see the Canucks coming away winners and wouldnt be surprised if they sweep the Wild.
Canucks win incl OT/SO
Canada: 1.95 Odds at Bet365 (Americans: We recommend http://www.bovada.lv.
USA: -106 Odds at BetOnline..
Everyone Else: 1.95 Odds at Bet365 (Americans: We recommend http://www.bovada.lv.
Follow @BetNHL
BetNHL.ca » Tonights Tips »