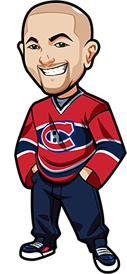 Written by Graeme on Thursday, August 6th, 2020
Follow @BetNHL
We've got 3 NHL qualifiers taking place today. Only one team is already in the playoffs and that is Carolina. The Flames can progress with a victory over the Jets today.
It was nice to have another good little betting day going 2-0. Both the over 5 games ended up at exactly 5 goals for a push. Oilers vs Blackhawks was a little quieter but still went over the 6.5. It took until 6 minutes left for that to happen with Highmore scoring to tie it up 3-3.
Won with the Habs over the Penguins which was nice as I took Habs or Draw there. I must admit I enjoyed that bet as I wasn't sweating the final few minutes as much as I usually am when I have a team to win and we have an empty net situation etc. That Petry goal my god.
Also while I am not officially betting it I've been saying – and said in the comments yesterday – to fade the Bruins during the round robins until they basically tell us not to. Another loss for Boston there.
It was certainly a better performance from the Bruins though and I'm really curious to see how they do in the playoffs.
Let's get to the tips:
Canucks vs Wild Betting Tips:
Minnesota won the first game 3-0 and then the Canucks picked up a 4-3 victory in Game 2.
While my Highest Scoring Period = Third bet still stands statistically, I'm going to mix it up and go with the Wild today.
Just watching the two games I feel like Minnesota have actually been the better team. Canucks have a couple of bumps with Ferland and Roussel and may have to mix up the lines. Toff out as well.
Wild ended the game well and I think they will come out more motivated and ready for this one. That's something I always pay attention to; how a team ends a game. As it can get them hungry and amped for the next game.
It's the 100th playoff game for Parise and let's hope he celebrates it with a W.
Wild to win incl OT/SO – and if you're Canadian it's a good spot to make that free $20 bet at Sports Interaction.
Canada: 1.86 Odds at Sports Interaction (SIA) + free $20 bet.
USA: -115 Odds at Bovada.
Everyone Else: 1.86 Odds at Casumo
(All odds listed are the best odds available for that particular bet. All odds correct as of 2020/08/06 8:24:58 AM EST but are subject to change.)
Leafs vs Blue Jackets Betting Tips:
I was looking at some advanced metrics for Korpisalo yesterday and it's crazy just how damn good he has performed so far.
Leafs are pretty solid favourites going into this one and I mean really it makes sense. Leafs showed UP on Game 2. They fought for every puck all through the game.
Problem with the Leafs is they can't do that night after night. You never know when they're just going to switch off. It can be frustrating to watch and it is certainly frustrating when it comes to betting.
As I could sit here and give you 20 reasons why the Blue Jackets could win this game and why there is great value in them. But if the Leafs show up like the did for game 2 then it's all for nought.
Muzzin is out which is a big loss for the Leafs.
I've got to think the Jackets will be more prepared for the Leafs this time around. They just had no idea how to deal with them in Game 2 and I think that will motivate them. I remember having similar thoughts in that Leafs vs Bruins series last year at the beginning. It's tough to bet it because I legitimately believe the Leafs are a team who can go out there and say "hey we want to win this game" then they simply win it – but I believe there is enough value to take Jackets incl OT/SO.
Oh that's with Korp in net. I assume he is but if he wasn't for some reason it'd be a no play obviously. Unless they replace him with a zamboni driver in which case it's still a play.
Canada: 2.35 Odds at BetOnline..
USA: +135 Odds at BetOnline..
Everyone Else: 2.35 Odds at BetOnline..
(All odds listed are the best odds available for that particular bet. All odds correct as of 2020/08/06 8:24:58 AM EST but are subject to change.)
Flames vs Jets Betting Tips:
Massive one of course as the Jets could go out with a loss. Hellebuyck knows that with the Jets injuries he is going to have to step up big here.
Jetes however not only are missing Laine and Scheifele but also add Appleton to the list it looks like.
Honestly I think the Jets injuries are just too much for them at this point. It really piles on to a team and I think mentally they will struggle. Flames meanwhile just one win away will have that extra motivation.
Odds for incl OT/SO are too short. However that's okay. My betting theory here is based on the fact that the Jets just won't have the drive and fight anymore while the Flames are the opposite of that. Based on that, a Flames regulation play would be the bet anyway.
I should quickly note that that is something to consider when it comes to betting. I've read so many times over the years where someone bets or tips a team and they write with extreme confidence in that team. Then they take the incl OT/SO bet. If you're confident in a team then that's where you should be betting regulation. You can't have maximum confidence in a team if you are then factoring in the crapshoot of OT (Unless there is extenuating circumstances such as really blatant OT/SO stats that make it worth factoring in).
Anyway if Laine and Scheifele are both out – Flames in Regulation.
Canada: 2.00 Odds at Bet365 (Americans: We recommend http://www.bovada.lv.
USA: -110 Odds at Bovada.
Everyone Else: 2.00 Odds at Bet365 (Americans: We recommend http://www.bovada.lv.
(All odds listed are the best odds available for that particular bet. All odds correct as of 2020/08/06 8:24:58 AM EST but are subject to change.)
Finally can I just say how bloody nice it is to be sitting here, drinking my morning coffee, studying hockey analytics and writing up over 1000 words on hockey?
My god I have missed this so much.
Follow @BetNHL
BetNHL.ca » Tonights Tips »