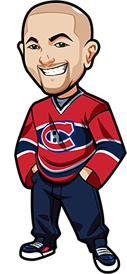 Written by Graeme on Sunday, August 9th, 2020
Follow @BetNHL
Hey how about that – I was able to call both round robin games correctly.
I said the Flyers to win and boy did they deliver there with a big 4-1 victory to be the #1 seed in the East. They won all their games and will now face the Habs.
I took the Over in the Knights vs Avs game. Vegas won there 4-3 to become the top seed in the West. They will now face the Blackhawks.
We'll likely do series predictions for each series.
Two round robin games today. Bruins versus the Capitals. Bruins are favourites there. I'd probably lean Capitals myself. They seem like the type of team that would be pissed at the Flyers outing and put in a good shift. In the other one – I'd probably go with the under but the odds are too short. Blues a bit too heavy favourites too so I probably won't even bet that one.
Of course there is one other game taking place today which is the Blue Jackets vs Leafs. Let's get to this one shall we?
Blue Jackets vs Leafs Game 5 Betting Tips:
Following Game 4 I wrote:
" I also experienced a real feeling of deja vu reading some of the Leafs interviews after the game. I've seen them talk like that before and if I recall blew it the very next game. I'll have to dive into the archives for that."
I didn't have to dive very far. February. The Leafs had just lost to the Sabres and Penguins 5-2 in each game. Then they beat the Penguins in an absolute clinic 4-0. Best Leafs performance of the season. Everyone was going nuts. People were actually saying stuff like "I'm going to save this game on my DVR to show my grandkids one day" and were actually serious.
Then they came out and lost to the Carolina Hurricanes 6-3 the very next game. Gosh there was something really unique about that game but for the life of me I cannot remember.
Oh wait I got it….THE CAROLINA HURRICANES HAD A ZAMBONI DRIVER IN NET.
Anyway as for this game itself? Jackets have to be considered great value all things considered. The way the Leafs are it's a total coinflip of a game.
However I am going to take the Over instead. Both teams have made big comebacks. Both teams will have the confidence if they go down. The first two games saw shutouts however with the frantic last two games I'm thinking we get similar circumstances here.
Over 5.5 Goals incl OT
Canada: 2.12 Odds at BetOnline..
USA: +112 Odds at BetOnline..
Everyone Else: 2.12 Odds at BetOnline..
(All odds listed are the best odds available for that particular bet. All odds correct as of 2020/08/09 7:01:15 AM EST but are subject to change.)
Although if the gambling gods wish to sacrifice goals in this game and instead choose for my 150/1 pick of Cameron Champ to win the PGA Championship then hey I'll take that!
Enjoy the hockey. Once series odds are up – likely tomorrow – we'll start covering them and analyzing both teams.
Follow @BetNHL
BetNHL.ca » Tonights Tips »