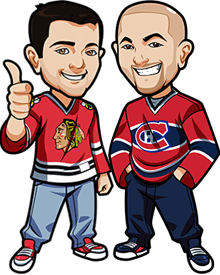 Written by Graeme & Scott on Wednesday, May 8th, 2019
Follow @BetNHL
It took double overtime and a hell of a lot of attempts but the St. Louis Blues finally got past Ben Bishop for the 2nd time in the night, to win 2-1 and progress to the next round of the playoffs.
Bishop was an absolute legend in that game and it's a pity he has to go out that way this year but he can hold his head high as he did an incredible job.
The Blues will find out their next opponents tonight, as the Sharks host the Avalanche in what should be an epic game 7.
4 of the 6 games between the two have been high scoring games and we hope that tonights game is one. Although we're a bit undecided on whether we want overtime or not because man – we gotta sleep!
Tomorrow night sees the Hurricanes take on the Bruins and we'll be back tomorrow with our thoughts and to do something a bit different than usual.
Let's get to our thoughts:
Avalanche vs Sharks Game 7 Betting Tips:
Graeme: Interestingly, both me and Scott tipped the Sharks to win it in 7 games. We ended up betting the Sharks outright with a small bet in the prop of them winning in Game 7 so no doubt we'll be rooting for them this game.
Sharks have won 2 out of the 3 at home here in this series and they're at 1.71 odds to win the game tonight – which is the exact price they were to win the series ha. So 6 games have been played and the outcome probability is the exact same as it was before the series began.
Honestly it's hard to see by the Sharks here. I just think they have that "it" factor in them at home and we saw the last time they played a Game 7 how that went. It's one of those series where honestly I don't mind who goes through – both teams have been very fun to watch and I'm looking forward to that continuing.
If you're looking for action tonight, I'd go with 0.5u on Over 5.5 Goals myself.
Scott: The Sharks came from behind 3 times in game 6 but it was the Avs winning it in OT.
Still no Pavelski yet and he is going to be a game time desicion for tonights game 7. But home ice will help the Sharks in this one. I called the Sharks in 7 games and I am going with that for this game.
Sharks win incl OT/SO – 0.5u
Follow @BetNHL
BetNHL.ca » Tonights Tips » Avalanche vs Sharks Game 7 Betting Tips