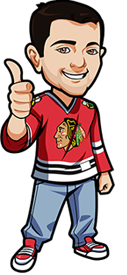 Written by Scott on Thursday, September 25th, 2014
Follow @BetNHL
As mentioned in the previous article, you can head over to Bovada and place bets on who will win the end of the season awards before the season starts. Its good to place these bets early as the odds are defiantly in you, the bettors, favor.
We will go over 2 players from each category. Our Best Bet is the player we feel has the best chance of winning it and who we think will at the end of the year. Our Long Shot is a player who, although doesn't have as good of a chance as the Best Bet player does, offers us so incredible value and still has as shot of wining it.
For all of these Future Bets its best to act fast because as the season is quickly approaching the odds are going to drop. So if you are going to bet then do it soon to have the highest potential winning value you can.
James Norris Trophy
The Norris Trophy is given to the best defensemen in the NHL each year.
Erik Karlsson (OTT) – 5.00
Shea Weber (NAS) – 6.50
Zdeno Chara (BOS) – 6.50
Duncan Keith (CHI) – 7.00
P.K. Subban (MON) – 9.00
Ryan Suter (MIN) – 10.00
Ryan McDonagh (NYR) – 10.00
Drew Doughty (LA) – 10.00
Alex Pietrangelo (STL) – 15.00
Kris Letang (PIT) – 15.00
Victor Hedman (TB) – 21.00
Marc-Edouard Vlasic (SJ) – 21.00
Best Bet – P.K Subban – Is there anything that P.K can't do? He puts up points, hits, plays D. Yes there have been issues of immaturity in the past ut he is growing not only as a player but as a person. Montreal fans love him and he loves to play there. Look for a huge year from him
Long Shot – Drew Doughty – Doughty seems to save his best for the playoffs each year but there is nothing holding him back from performing at that leave for the whole season. He is just coming into his prime and could surprise people with the season he is about to have
Bovada is the place to go and bet on who will win the Norris Trophy before the season starts.
Vezina Trophy
The Vezina is award to a goalie for being the NHL's best Goaltender
Tuukka Rask (BOS) – 4.00
Henrik Lundqvist (NYR) – 5.00
Carey Price (MON) – 7.50
Jonathan Quick (LA) – 9.00
Semyon Varlamov (COL) – 10.00
Cory Schneider (NJ) – 11.00
Ben Bishop (TB) – 13.00
Pekka Rinne (NAS) – 13.00
Ryan Miller (VAN) – 13.00
Sergei Bobrovsky (CBJ) – 16.00
Corey Crawford (CHI) – 17.00
Best Bet – Tuukka Rask – Rask has been consistently putting up amazing numbers for a while now so I don't see any reason to think this is going to stop. Plus when you play behind Chara as a goalie, good things tend to happen for you.
Long Shot – Ben Bishop – Already an amazing goalie, this giant will be even better this year. The Lightning have gotten much, much better on defense and will have a full and healthy year from their superstar Steve Stamkos.
Bet on the best goalie in the NHL over at Bovada. Got on this early before they change the odds
Calder Memorial Trophy
The Calder is given to the rookie of the year in the NHL
Jonathan Drouin (TB) – 3.25
John Gibson (ANA) – 3.50
Evgeny Kuznetsov (WAS) – 4.00
Teuvo Teravainen (CHI) – 7.50
Aaron Ekblad (FLA) – 8.00
Best Bet – Jonathan Drouin – This kid has been a beast at every level of hockey he has played at. And when you put him on a suddenly strong Lightning squad then he is going to have a great year.
Long Shot – Teuvo Teravainen – The Blackhawks have een looking for a number 2 center for years and have been patient with the kid the drafted. But this year the may give him a role where he is going to have a monster year. Sure the Hawks signed Richards but if he falters then look for Teravainen to step in to play with Kane and Sharp.
Bet on the winner of the Calder Trophy at Bovada
Follow @BetNHL
BetNHL.ca » Tonights Tips »