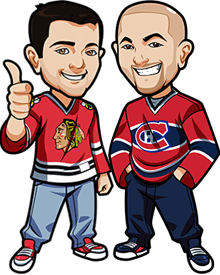 Written by Graeme & Scott on Tuesday, July 16th, 2019
Follow @BetNHL
Hope everyone is enjoying their Summer away from hockey!
We'll be back with non-NHL tips in the coming week covering other hockey leagues just like the last two seasons. In the meantime we are hunting the web daily looking for prop bets that we can analyze and bet on beyond the usual.
This one is just for Canadians and it's available at Sports Interaction. If you don't have an account there, we highly recommend it.
We will go over each Canadian team, their odds and moves they made and give our thoughts on who is most likely to win it all next. Now this doesn't mean who is going to win it next season but who has the best chance to win it next and bring the Cup back to Canada for the first time since the 1993 season when the Canadiens won it all.
This is a bet that will go until one Canadian team wins it. Which they surely have to one day right?
Toronto Maple Leafs: 3.00
The Leafs are the odds on favorite to be the next Canadian team to win the Stanley Cup and for good reason.
At the point of writing this, the Mitch Marner contract has yet to be determined but this team is still stacked.
Upfront they have Matthews, Tavares, Nylander, Marner and recently acquired Alex Kerfoot and Jason Spezza. On Defense they made some big changes adding Barrie and Ceci who join Reilly and Muzzin to round out their top 4. Freddy Andersen is a strong goalie.
With all of the talent this team have they do have the best chance at winning a Cup for Canada in the near future.
Bet on the Leafs to be the next Canadian team to win a Cup here
Calgary Flames: 3.25
The Flames are, according to the odds, the next Canadian team with a chance at winning the Cup.
They ended last season in 1st place in the Western Conference and still have most of their team returning from last season. Monahan and Gaudreau are amazing and still young. Lindholm and Tkachuk are two other young stars on the roster. Giordano just won a Norris Trophy for their defense.
The biggest move the Flames made was in net. Out went Mike Smith to the Oilers and in comes Cam Talbot. He is excited to get a new start after having some down years in Edmonton.
To bet on the Flames to be the next Canadian team to win a Stanley Cup click HERE
Winnipeg Jets: 3.50
The Jets have it all and were expected to contend for a Cup last season.
They lost some key players in free agency. Myers, Tanev, Chiarot have moved onto new teams and the Jets did nothing to address the losses.
But they're still a strong team with Scheifele, Laine, Wheeler, Byfuglien, and Hellebuyck. A young team with potential.
To bet on the Jets, go to Sports Interaction
Edmonton Oilers: 9.00
How a team with Conner McDavid can be so bad is crazy to me. And with Draisaitl turning into a legit scoring threat scoring 50 last season this team should be better.
They are taking a risk this season by going with the 37 year old Mike Smith to split duties with Koskinen in goal. This is a gamble that could pay off for them.
But with recent results showing this team doesn't have what it takes to compete they need to make some big changes. They are wasting the prime years of McDavid and the Oilers fans deserve better.
Is this the year they turn it around and become a Stanley Cup threat? If you think they have a chance at being the next Canadian team to win a Cup, with McDavid it's possible, then Bet on the Oilers here
Montreal Canadiens: 9.50
The Habs are moving in the right direction. The team had Carey Price who is only 31 and has plenty of tread left on his career. Up front, they have a nice group of young players who are only getting better. Domi, Gallagher, Drouin and Kotkaniemi are young and will be the core of this team for a while.
They added Cousins and Chiarot as depth pieces who are going to help but I dont see them being the next team from Canada to win a cup.
If you disagree with me and think Price can once again become the best goalie in the world then Bet on the Habs here
Vancouver Canucks: 13.00
This team is an interesting one. They added some help where the needed it adding Jordie Benn and Tyler Myers to strengthen their defense and added Micheal Ferland to add some grit and offense.
They already have Horvat, Boeser and Calder winner Elias Pettersson who all are young and will continue to get better. And Jack's brother Quinn Hughes is going to earn a spot on the roster on defense.
In goal they have one of the best young goalies ready to become the teams number 1. This team has all the pieces in place to be a contender in the near future.
Canucks to be next Canadian team to win the Cup is where to go if you like their chances.
Ottawa Senators: 17.00
Yikes. The Sens were last place overall in the league last year by a decent margin. And they traded away their 1st round pick. So having a terrible year and losing a pick in the first round of the draft is really going to hurt them.
The added Conner Brown and Nik Zaitsev in a trade with the Leafs. Then signed Ron Hainsey and Tyler Ennis. So they went out and added some veterans to help the youngsters along as this team moves forward.
But this team has so much work to do that I don't see a Cup for them in near future at least not until after another Canadian team has won one.
Anything can happen though so if you like the Sens chances then pick them HERE
Follow @BetNHL
BetNHL.ca » Tonights Tips »